Your outside space is the first - and last - thing guests or potential clients will see when they visit your Georgia site. A well-maintained landscape can speak volumes for a business, projecting a sense of professionalism and care from the get-go. A properly-maintained property shows clients, employees, and the community you care about their well-being—while reducing your liabilities.
From warehouses to manufacturing facilities, Macon area business owners are waking up to the importance of proper site management in order to maintain the health, security, and attractiveness of their large-scale business operations.
Should I hire a professional landscaper to manage my commercial site in Georgia?
Investing in the services of an expert commercial landscaper can enhance your company's image, attract new customers and tenants, and eliminate dangers like low-hanging branches and brambles. Commercial landscape maintenance ensures your property looks polished and well-manicured year-round, and can also reduce the likelihood of issues going unnoticed and getting out of hand.
The fact is that maintaining a commercial landscape in Georgia requires a lot more than weeding and mowing. You would be amazed by how many businesses T.Lake has come across that have thrown money down the drain by investing in the wrong type of turf, fertilization techniques, or out-of-season plants. While most problems can eventually be fixed, doing so often requires a lot more time and money than good old-fashioned regular upkeep.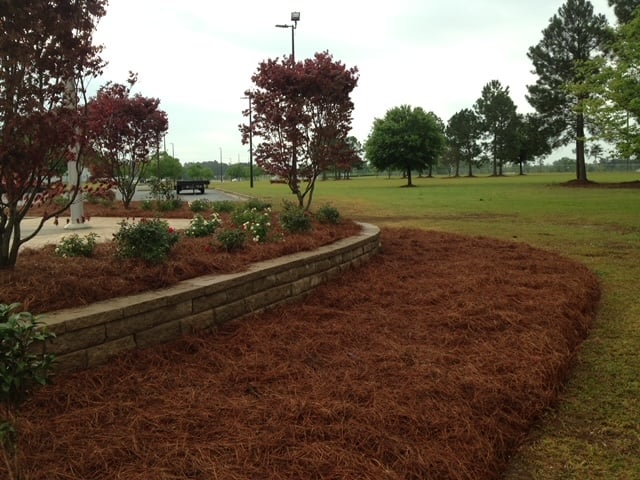 A professional technician knows the what, when, why, and how to get the best from your commercial Georgia landscape, and can save you a world of hassle (and money) in the long run.
Professional landscape maintenance for warehouses and manufacturing plants
To better understand what a professional landscape company like T.Lake can do for your Georgia business, it's worth taking a look at one of our longest-running commercial clients, YKK Corporation.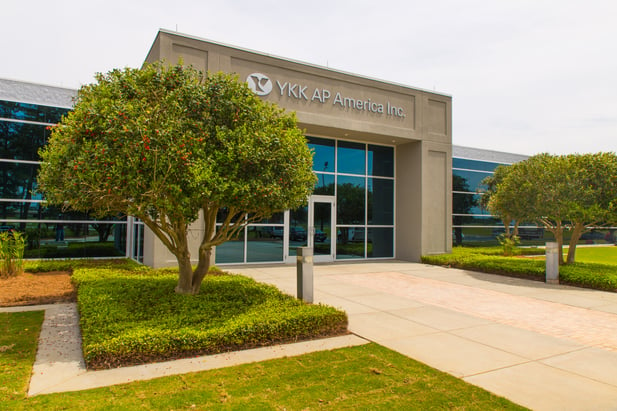 YKK has been our client for more than 27 years, and during that time we have helped them establish and maintain high standards for the company's 350-acre AP (Aluminum Products) America headquarters. The site, located in Dublin, Georgia, not only houses a large-scale manufacturing plant but also serves as a flagship meeting point for international clients. As with all our commercial clients, our maintenance regime has been shaped by the unique landscape and practical requirements of running a global manufacturing plant.
The site is roughly divided into two parts, with one side boasting finely-manicured guest entrances, walkways, and seating areas, and the other mostly consisting of detention ponds, drainage ways, fence lines, and miles of curbing.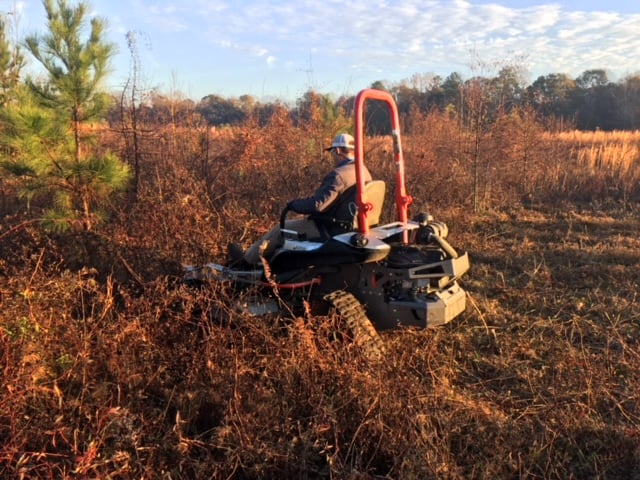 Although they require very different maintenance approaches, both sides are equally important. Luckily our skilled Georgia maintenance crew is expert at balancing "top-shelf and rough", and works hard to implement our year-long, seasonal upkeep regime. This includes everything you would expect - mowing, trimming, and weed, leaf, and debris removal - as well as more specialist services like herbicide treatments, integrated pest management, and landscape lighting and irrigation management.
How to Choose a Commercial Landscaper in Georgia
With so many commercial landscaping companies out there, how can you be sure you're going with the right one? We know this part of the process can be overwhelming, so we've put together a handy guide to finding your perfect landscaping match in the Dublin, Macon, Warner Robins, Locust Grove and Jackson area. If you follow these steps, then you'll be well on your way to commercial landscape bliss with a landscape company you can trust.
Understand exactly what you need
No two commercial sites are the same, and as such, it is important to spend a little time working out which services your Georgia property needs to keep it ship-shape. There is a common misconception that all commercial landscapers offer essentially the same services, which is not the case. Before you sign a maintenance contract with a Georgia commercial landscaper, make sure to find out what their services are so you can compare them to your checklist.
The key services to look for are:
Chances are that you will need a combination of all of these services at different points in the year.
Check for Sustainable Practices
A reputable landscape company will place self-sufficiency at the heart of everything it does. Energy-efficient landscape maintenance is not only kind to the environment, but to your budget too. In today's world, it is expected to be part of your corporate ethos.
The best landscapers will save you water, electricity, and reduce the number of harmful chemicals used on your site, resulting in cost-effective self-sufficiency that enhances your business and its reputation.
Before you settle on a commercial landscaper, make sure you ask them about their environmental stance. Check that they use native Georgia plants, that they recycle bio-debris, and if they employ Integrated Pest Management strategies to keep your landscape healthy. Additionally, you should inquire about what programs you should be looking at to make irrigation and lighting more energy or water efficient at your site.
Look for Commercial-Grade Equipment and Products
When you outsource your landscaping maintenance, you don't have to spend on the many tools and products that regular landscape care requires. The cost of upkeep is far more extensive than many people realize and requires far more than just a mower and rake. Just to cover the basics you would need a string trimmer, edger, hedge trimmer, shovels, wheelbarrows, ladders, pruning shears, bags of fertilizer, pesticides, and much, much more. Landscape companies will already have all these materials on hand, so you can save money and reinvest in other areas of your business. Of greater consequence is adequate, well-trained labor and supervision to see that the right tasks are done safely and at the right time.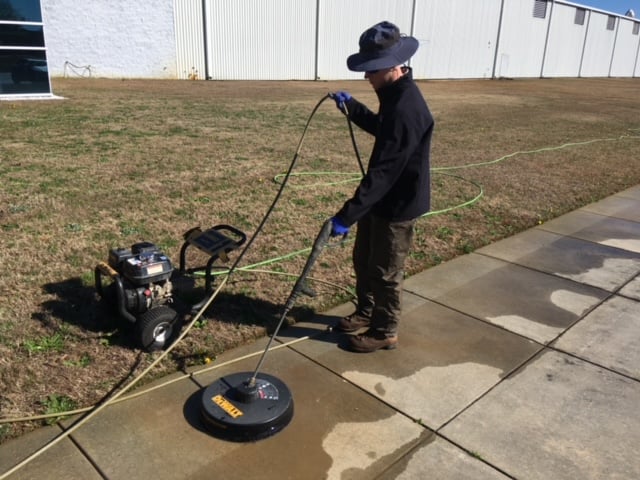 Ask your local landscaper what specialty equipment is in their arsenal, what products they use for exterior cleaning (and look for companies that steer clear of bleach), whether they use innovative new technologies like drones. Using a well-stocked landscaping company means you won't have to sift through multiple vendors to get what you need, saving you time, money, and a world of unnecessary stress.
Find a Commercial Landscape Maintenance Company in Georgia
There are many commercial landscaping companies in the Dublin, Macon, Warner Robins area of Georgia. If you follow this guide then rest assured you will find a contractor that not only fits your budget but can help you achieve your vision for your commercial property.
For us, environmental design means considering the natural factors impacting an area, as well as how people use and interact with it. At the end of the day, you'll likely spend more time maintaining your landscape than you did creating it. We pride ourselves on maintaining a healthy lawn, cultivating healthy plants, and sustaining long-term harmony on site.
When you are ready to start a discussion about the projects and challenges surrounding your landscape, fill out our contact form. You can also call our Dublin office at 478-272-3878 or Macon office at 478-750-7733.