We have been at this for a quarter century. We are proud of what we do and we are serious about our work.

Not everybody can make the cut. To fit in here, you must have a strong work ethic, take initiative, follow through to get things done, and be accountable for the results.

A career with T.Lake Environmental Services isn't just a job. Here's what else comes with being part of our team:
T.Lake Culture
Stability. We are financially sound, values-driven, and focused on the long haul. T.Lake team members rest easy knowing the company is strong and here for them.
Security. We are aggressive about healthy growth and customer retention, which means you will always have adequate work to do.
Prestige. We strive for excellence and have received multiple awards for our work. You can be proud to represent a company that is known for the highest quality work in our region and is recognized in the industry for excellence.
Structure. We have organized the company around defined, replicable methods of accomplishing results so you can work smarter. Our management structure provides support without overly complicated bureaucracy.
Growth. We choose to always move forward, so that you may have the opportunity to grow as well. We offer regular training, and we expect that each person will continue to learn and grow their skill set independently, too.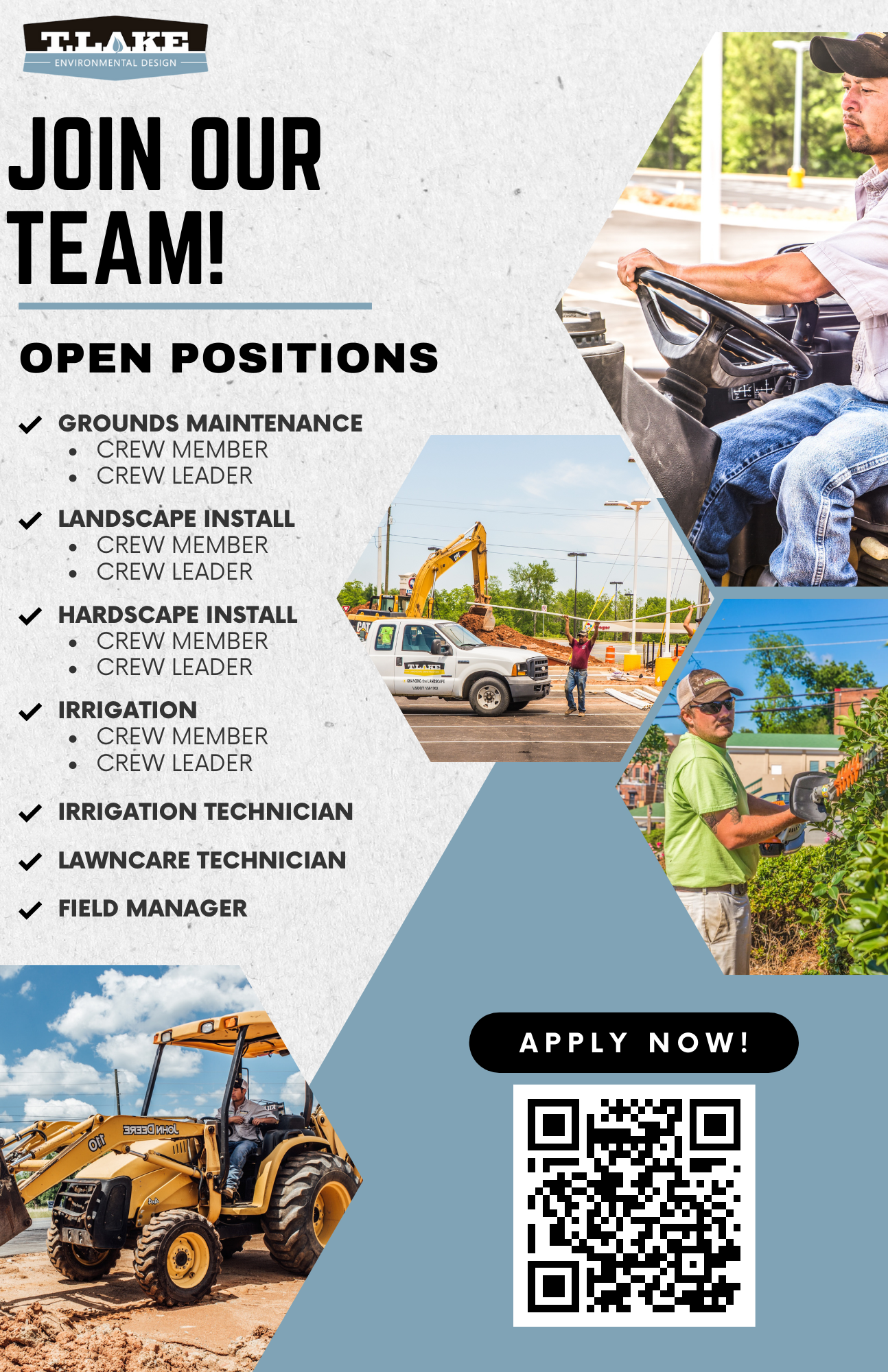 T.Lake Benefits
Paid holidays, personal leave, and vacation. Because everybody needs a break once in awhile
Overtime pay. Yeah, we know it's the law, but lots of landscape companies in our area don't pay OT. We do. By the book, always.
Weekly payroll. It automatically deposits into your bank account, so you don't have to worry about cashing your check after work. It just magically appears.
Opportunities for holiday and performance-based bonuses. When the company profits, you can make a little extra for yourself — it's just another way we push ourselves.
Training. We do it every week, plus some special events. Because it benefits our clients, the company and you. (And because they don't make smart pills.)
Advancement opportunities. As we grow, so do you. New markets, new service lines and new clients mean new jobs to fill internally.
The best equipment. We invest in the best tools and equipment to do the work and we like to keep it current. Because showing up with worn out junk looks bad and makes you mad.
Markets We serve
Savannah, GA
Dublin, GA
Macon, GA
Available Positions
Management and Sales
Operations
Internships
No positions are currently available.
Interested in working with us?
Fill out our simple pre-screening form, and we'll
immediately
Send you an email with a link to next steps

.