Commercial and residential properties of all shapes and sizes depend on a reliable irrigation system to keep shrubs, turf grass areas and flower beds looking their best throughout the year.
While many aspects of today's irrigation systems are fully automated, they still need to be inspected regularly by a certified technician to ensure that the systems are performing to their full potential and that the controller is properly programmed for your property.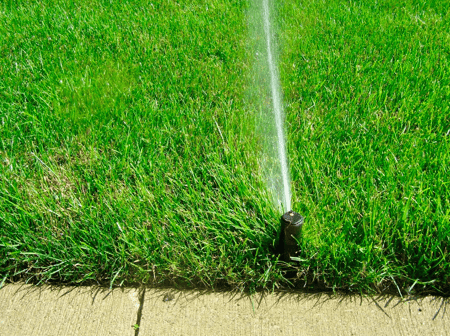 At T. Lake, we offer irrigation installation and maintenance services to all types of commercial and residential properties in Macon, Dublin and all across Middle Georgia, including:
Industrial and office parks
Hospitality and multi-family
Municipalities and universities
CarAutomotive dealerships
Farm landsAthletic Fields
We've been providing irrigation services since our inception, with the ultimate goal of reducing water usage and helping your landscape thrive. We've seen a thing or two over the years, and our team of certified irrigation technicians boasts many industry certifications and have years of experience along with recurring training.
We take great pride in keeping your property green.
IRRIGATION INSTALLATION & MAINTENANCE SERVICES
We offer irrigation services to both commercial and residential properties.
Installation/Retrofitting
We have the ability to install completely new systems or retrofit existing systems. Using GPS technology, our technicians are able to map, audit and retrofit an existing system with the best possible components available.
We also offer horizontal boring when installing so you won't have to worry about an open road (or driveway) cut on your property during installation or retrofitting.
Inspection/Adjustments/Repairs
If a sprinkler head is leaning to the side or there is water pooling where it shouldn't be, a certified technician will need to identify and address the problem in a timely manner. Our irrigation checks ensure that your system is running the way it should be for optimal results.
Seasonal Shutdowns
While we don't do the typical winterization process in Middle Georgiaour Middle Georgia climate doesn't require the level of winterization our northern peers need, we do offer a seasonal shutdown. We'll make sure that your system is ready for a chance of snowthe occasional hard freeze in the winter — and that it's ready to go at the first sign of spring!
Smart Controllers/Add-ons
Irrigation systems have changed a lot over the years, including the technology behind them. We're proud to offer the latest in IOS interfaces and weather-station integration in order to maximize the efficiency of your system.
With smart technology, we have the ability to monitor anything from weather to soil moisture — ensuring that your system turns off at the right time, limiting slips, icing and other potential safety liabilities.
LEAVE IT TO THE PROS
At T. Lake, we take all of your needs into consideration from installation to routine maintenance. Our goal is to make sure your plants are looking their best and that you're saving money on water usage.
We're proud to serve commercial and residential properties in Dublin, Macon, Warner Robins and Hawkinsville.
Contact us today to speak to someone from our team about your irrigation needs and how we can help.