We're always excited to welcome new team members, especially when they bring diversity and new skills to our team. This fall, we are extra pumped to introduce the newest and most uniquely talented member of the T.Lake team: our brand new DJI Phantom 4 Pro V2.0 quadcopter drone!

Photo credit: DJI
The Story Of The T. Lake Landscape Drone
It all started with a muddy soupy mess.
We were doing a large-scale earthwork project on an industrial landfill. With 20 acres being actively graded and worked, the site became a nightmare to access after rain events. Droughty spells weren't much better, with dirt and debris flying in your eyes and everywhere.
Monitoring progress on a project like that can be a piece of work in itself. It's hard to get a feel for what's happening over 20 acres when the site is difficult to access and heavy equipment is constantly moving about. Even once we got to the point in construction where it was possible to drive around on top of the slopes, it wasn't exactly the safest thing.
With safety top of mind, and always looking for a more efficient solution, one day I just decided enough was enough—and began to research drones for sitework and landscaping .
So Let Me Tell You About The Phantom
Got a day or two? Because that's how long I could talk about the Phantom 4 Pro. It's reputed to be one of the most solid drones on the market for construction use, and after having put it through the paces for just a few weeks we can see why.
You can fly this thing manually or set it so that it takes off, flies, surveys, comes back and lands itself automatically. It comes with a built-in camera that takes remarkable aerial photos and video. (At 4K resolution the images are seriously high definition, which means we can get some truly cinematic effects.)
It looks more like a high-tech toy than a construction or landscaping tool, and I have to admit we feel like a bunch of kids at Christmas with a new go kart. But this landscape drone delivers some serious value.
My biggest goal at first was simply to solve the pressing issues of one particular project: to be able to create aerial record photographs to communicate progress, topographic maps to check compliance with the plans, and to measure volumes of earth moved. To be able to access and monitor that 20 acre site remotely from above was a dream come true. I'll tell you all about the awesome things drones can do for commercial construction and civil engineering sites in an upcoming blog (some of the stats will make your jaw drop), but for now I'll just say we're more than pleased with our little Phantom landscape drone. It has saved buckets of money and many hours of time on the project, and has made project documentation and communication incredibly easy and robust.
Now that we've had a chance to put it to use, we realize that we have just scratched the surface on all the cool things this puppy can do.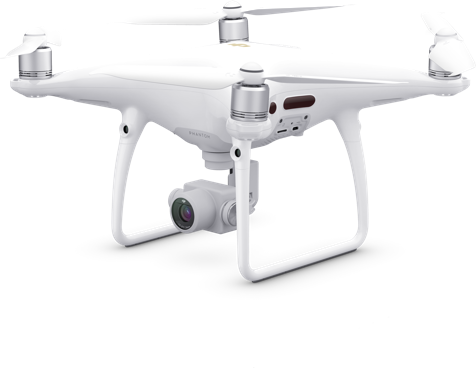 Photo credit: DJI
The Right Apps For The Job
We've teamed our Phantom landscape drone with a software app called DroneDeploy which enables all sorts of capabilities for project management, aerial inspection, and site progress tracking and communication.
We've also started using a construction management app called Raken. That's what we use for daily reporting, and it is just phenomenal at helping us achieve incredible levels of efficiency. The drone photos, maps and even video can be loaded into the app for construction documentation and then automatically shared with the client the next day.
In addition, the Phantom adds a whole new level of coolness to a software package we use called LandFX, a fantastic AutoCAD system specifically designed for landscape architecture. We use it for site planning, landscape architecture and design, irrigation - all sorts of things—and the drone data now gives us the ability to do even more with it. For instance, we can use our drone data to create a virtual reality walk through or fly through of a project. It can really make a plan super realistic and enable people who are not used to visualizing and for whom circles and lines on a page don't mean anything to really get to see and understand what a project will look like at completion.
What Can A Landscape Drone Do For You?
Every day, we think of more ways to employ the T. Lake drone to improve the services we offer. From saving time and expense on projects, to improved communication, to expanded capabilities in inspection and other areas, down to just the COOL factor, we couldn't be happier with our little quadcopter.
Over the next few weeks we'll be sharing more details here on the blog, including some exciting video footage as well as how a drone can improve the management, communication and final results for any residential, commercial, civil engineering, or design project. If you have a project you'd like input on and think a drone might be just the ticket, don't hold off. Give us a call today at 478-750-7733 or contact us here, and we'll be happy to discuss. Here's to working smarter!