You're basically handed a blank canvas when you decide to buy new construction.
While that can be exciting, it can also feel a bit overwhelming. Beyond the house, you also have to think about the outdoor living space.
What does your new home's landscape need? What will look best in your outdoor space? How do you combine all of your design ideas with the space you have? And of course, who can answer all of these questions?
Instead of getting frustrated with the whole process, work with a professional to design and build the outdoor space of your dreams.
What You Can Expect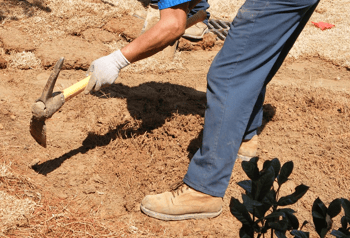 Rome wasn't built in a day, and although we've come a long way since then, your design-build project isn't going to be done that quickly either.
By having realistic expectations and better understanding what's involved, the entire process will go more smoothly for everyone.
Your new property will become a (possibly hectic) construction site with workers, materials and equipment. That's the norm.You can also expect to have dozens of decisions thrown your way about what you want and how things should be done. Luckily, there are pros out there who handle that stuff every day.
For example, landscape architects can work with you from start to finish, know how to navigate red tape with new construction and have all the right contacts.
They will be your point person throughout the process and can answer all of your questions.
Steps of a Design-Build Project
Most homeowners have never been through the design-build process with new construction, so don't worry if you don't know what to expect.
As the name suggests, design-build projects are two fold, with an early planning stage and then the actual construction. From start to finish, here are the steps involved with the design-build process:
You'll need to schedule a consultation to get the process started. During your first visit, you should show the landscape architect photographs or images of things you like so they can mentally get to the same place as you. They'll also ask your budget to make sure their proposed ideas are in line with that.

They will come out and survey your property, collecting whatever data is available (ex. aerial maps, where utility lines run, etc.).

They'll use all of the information to create two to three design concepts, with rough budgets for each for you to review. This is the time to give them all of your feedback.

Your changes will be incorporated in the design, and they'll bring back an updated plan and price for you to approve.

The construction process begins. This can take weeks or months, depending on what you're having done. The architect should keep you updated throughout the project and let you know if there are issues.

Once your project is completed, the landscape architect will walk through it with you to make sure everything was done to your liking. You can also talk to them about maintaining the space to keep it looking like that.
Examples of Completed Landscape Design-Build Projects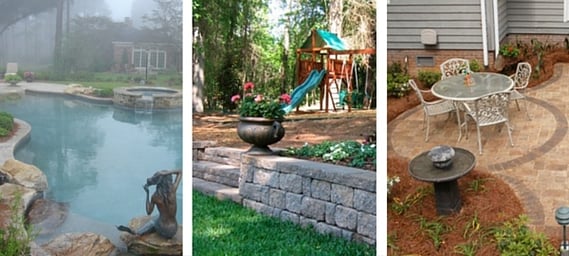 We've built projects from Central Florida to Middle Tennessee — and everything in between — handling everything from the design work to breaking ground.
To give you some ideas of what your design-project could look like once completed, here are some of our favorite residential project features:
Pool
Designed to classical Fibonacci Series proportions, this free-form pool and pavilion creates the perfect entertainment space. There's a beach entry, natural stone accents, waterfall and spa.
Green Space
This backyard was a blank slate when we started, and it involved grading, leveling and constructing multiple levels to create play spaces.
Patio
This formal entertaining space includes a water feature for relaxing. There are also colorful plants along the front entrance.
Benefits of Working with a Landscape Architecture Firm
It's pretty easy to figure out if you should work with a landscape architect. Ask yourself these questions:
Do I value my peace of mind?

Do I want the project done correctly and at a high quality?

Would I rather a professional coordinate all of the designs, red tape and potential issues?
If the answer to any of them is yes, then it's probably best to turn to an experienced firm.
Beyond knowing everything is done correctly and putting less on your plate, there are also some more concrete benefits to working with a landscape architect:
Their work can add value up to 15 percent over comparable homes, according to the

American Society of Landscape Architects

.

They will design low-maintenance landscapes with stunning native plants, saving you water and money on utilities.

They understand the big picture of your site: how the sun travels across it, drainage patterns, ways to add aesthetic and functional value and how the breeze will affect the site
These pros will offer you their expertise from start to finish, and your investment in them will bring a mucher higher ROI. Plus, the finished product will be more enjoyable with a longer lifespan.
What Are Some Possible Design-Build Challenges?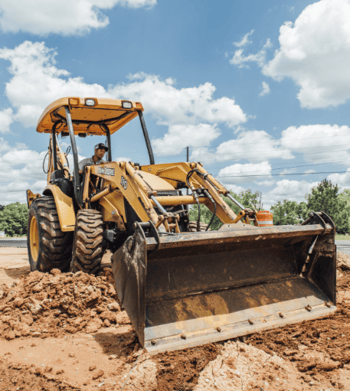 Like with any project, there may be hurdles with you design-build project.
For example, your new neighborhood might have specific rules for how your outdoor area can look — like the size of your driveway, walkway pattern/shape or amount of green space required.
Their requirements might not fit in your original ideas, so you'll need to work with the landscape architect to figure out a solution (or fight the decision).
Your blank canvas, as I mentioned earlier, can be good and bad. And in some cases, it's more of the latter. While the landscape architect has a rough idea what's under the ground, they can't know for sure until they start to dig in. Sometimes they hit rock, roots or other structures that could throw a wrench in the plan (and possibly your budget).
Just because something is new doesn't mean there won't be problems with it, so make sure you're prepared for that.
Break Ground On Your New Construction's Landscape
Hopefully all of this information didn't scare you away from buying new construction. Understanding the process and finding the right partner will make everything much easier.
At T. Lake Environmental Design, we offer a full list of services like landscape architecture, land planning and landscape contracting: So, you only have to work with one company during the entire design-build process.
Give us a call at 478-750-7733 or contact us online to break ground on your new construction.