There's nothing appetizing about a restaurant with a rundown, dirty exterior. If that's how they maintain the outside of the business, just imagine what goes on in the kitchen, right?
Likewise, the look and state of your facility's grounds tell clients and employees both a lot about how things are run on the inside.
The outdoor space is the first and last thing people see when they visit your site, so make sure it's a good representation of what goes on inside your company. If it's not, you could lose business and top-notch team members. Plus, it can lower employee morale, creating unhappy and unmotivated workers. Mediocrity never inspired anyone.
Here are five big-impact ways to add color and curb appeal to your corporate campus landscape.
Brighten Up Entrances With Plants
Think about a place you frequent that has a positive, welcoming feel to it — like a resort or favorite restaurant. Now, try to remember if that property had colorful plants at key entrances. The answer is most likely yes. Nothing grabs people's attention and adds interest like colorful, blooming plants.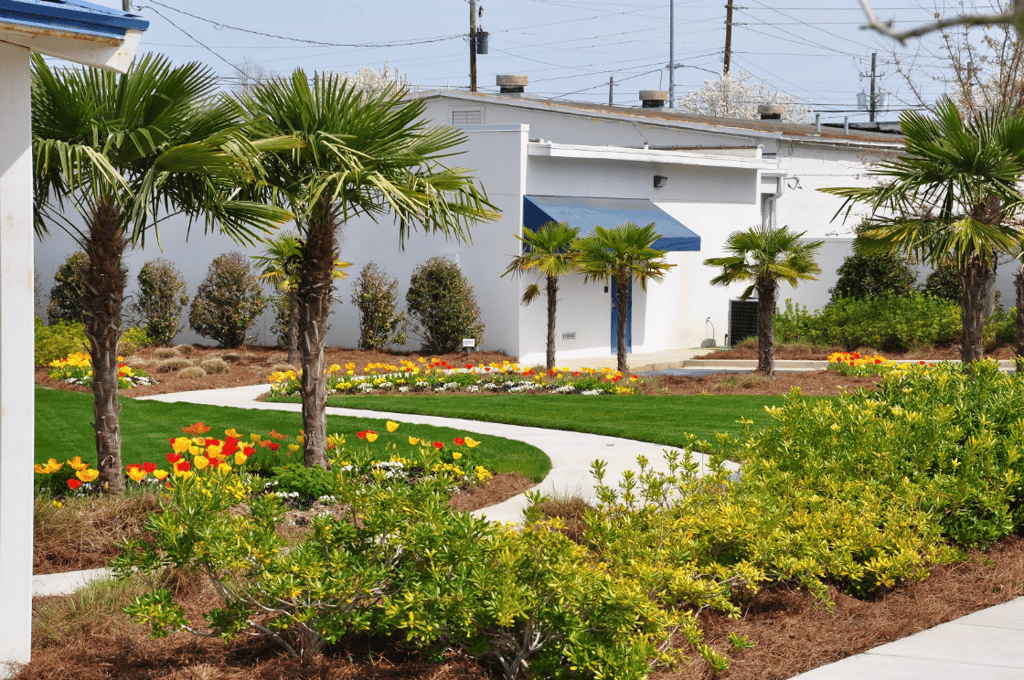 People will have a more positive experience at your corporate campus if there is color, point blank. And entrances — both along roadways and into the buildings — are good places to add plants for the best effect.
You can also install colorful plants around common areas to boost employees' spirits and show you value them. A little really does go a long way.
Change out the color two to three times a year to keep your property looking dynamic year round.
Give Signage A Facelift
Your signage is a representation of the company, so what does yours say to visitors?
Replacing or updating your signage can add some real curb appeal to your corporate campus landscape. Here are some things to think about when redesigning your sign:
Viewing speeds: Will passersby be able to read what's on the sign, or is it too busy?

Colors: Do they match your brand's?

Architectural Elements: Does your signage complement the building's style?

Font: Does it read well and reinforce your logo's style??
Set your property apart and strengthen your brand with a sign that's anything but average. You can also carry that design over to banners or flags throughout the site, as well.
Pave The Way To High Morale
Do you want to inspire your employees and make them feel valued? Then create enjoyable spaces just for them with hardscape features like walkways and patios for common areas.
Giving employees places to walk and sit outside will give them the chance to get some fresh air, which helps with productivity. It also shows you care about your team's well being, not just the bottom line.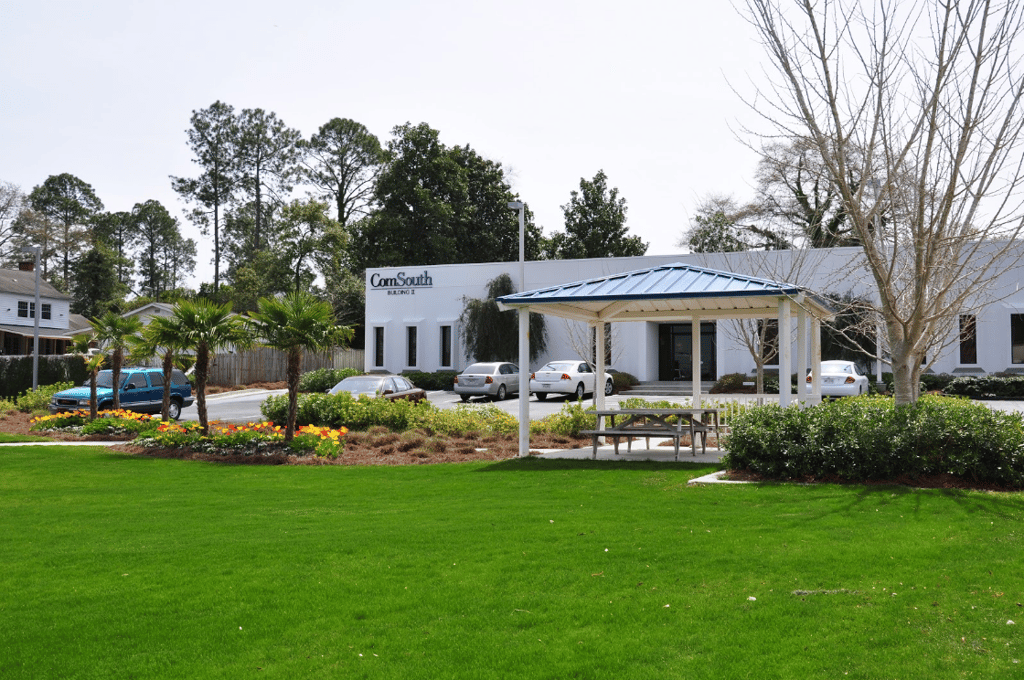 Common areas can include a patio, tables, benches/chairs, shade structures (a must for the Georgia heat) and foliage.
Gateway To Your Company's Soul
Whether you put it around the entire perimeter or just near entryways, fencing can give your property structure and style. Fencing can also help you control site traffic while enhancing security.
There are a variety of fence and gate colors, styles and sizes, so pick one that matches your brand and other site elements. Each feature on your property should give people a sense of what your company is all about, and architectural fencing can be a great alternative to the chain link look
Light It Up
Don't miss out on the chance to wow visitors after the sun goes down. Architectural and landscape lighting will not only increase your property's safety and security, they will also add some serious curb appeal.
Lighting gives your campus another dynamic as the sun goes down. You can use the lights to feature a large tree, or you can angle them to highlight aspects of your building that might not stand out as well during the day. The options are pretty limitless.
You can also install decorative lamp posts to combine lighting with another visual element. These can even have your company's logo on them to extend the branding.
Find A Pro With Corporate Campus Landscape Experience
You expect a high level of experience, passion for the job and personal drive from your employees, so hold your commercial landscaping company to the same standards.
At T. Lake Environmental Design, we're no strangers to the corporate campuses. We maintain and enhance local properties like the ComSouth Communications corporate headquarters and Ricoh.