What's not to like about autumn in Georgia?
From Macon to East Dublin and everywhere else in Georgia, gorgeous fall colors treat your eyes to a visual feast. The crazy heat and humidity of summer gives way to cooler, sun-kissed days and crisp, refreshing nights. And no matter what team you're rooting for, football is king!
It's no wonder many Georgia residents virtually live on their patio or deck during this time of year.
Whether you're gearing up for a season of football patio parties or just planning to enjoy the beautiful fall weather grilling and relaxing on your deck, the shorter days of autumn make good outdoor lighting an essential feature both for safety and enjoyment.
6 Popular Fall Patio Lighting Ideas
Fall deck and patio lighting can add a lot to the ambiance of your outdoor environment. And, having a well lit property can prevent trips and falls on your property. Let's explore some of this season's top patio lighting ideas.
String Lighting
If you are looking for a versatile yet affordable outdoor lighting effect, look no further than string lighting. Often used at catered events — sometimes referred to as bistro lighting — these have a festive appeal that's great for any gathering. It's a diffuse, lacy-looking light that is softer and more elegant than fixed spots.
String lights can be formal or informal depending on how you use them. They can be installed permanently but most often they're strung as a temporary fixture — which means you can easily change the look according to the occasion.
In addition to being quick to install, string lights are available to suit any budget. They range from $10 to $200 per string depending on length and quality.
Light Ribbons
A relative newcomer to the world of landscape lighting, these flexible, clear tubes studded with LED lights are a fun way to light up your night.
They can run in any groove in the pavement or tucked into the architectural features of your home, making a trail of light around corners or anywhere you want it.
Light ribbons come in your choice of solid or multi-colored. They are also quite affordable; you can get a 150 foot spool for under a dollar per foot.
Themed Lanterns
What's your party theme? Football? Harvest? Halloween? No matter what you're celebrating, you'll find lighting to match.
In addition to plain white orbs, string lighting also comes in many decorative forms such as Japanese lanterns, jack-o-lanterns, or even footballs and soccer balls.
You can also get portable decorative lanterns to set on tables, stairs or seating walls. These, too, vary in price but most are inexpensive.
Path Lights
It is a good idea to keep your walkways well lit, especially if you are planning a larger party. Outdoor path lights will keep your guests safe and out of your flower beds. A winding, lit path is also a pretty thing at twilight!
Many models are available. Some are even equipped with tiny solar panels and LED lights, so you won't have to worry about changing batteries. You can expect to spend anywhere from under $10 to several hundred dollars per light, depending on quality and style.
For safety, make sure that you place the lights close enough together to provide at least one foot candle of light on every part of your pathway.
Stairway Lighting
There is always greater risk of falling on stairs, so if you have steps leading up to your patio or deck be sure to light them well.
Depending on your situation, path lighting might do the trick, or you may prefer to install accent lights or overhead pole lighting.
Under-step lighting is also an excellent choice. Again, prices vary widely. Regardless of which type of fixture you use, be sure the light hits the tread of each step so people can see where to put their feet.
"Dark" Lighting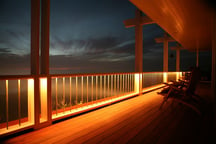 There are many practical reasons to light your property. But if you want your property to really stand out as something special, you'll want to work with an outdoor lighting expert who knows how to use dark as well as light to create artistic lighting effects.
The most important element here is actually your dark areas, because the dark provides a foil for your lighting effects. Often the most beautiful effects are seen when there are crisp, definite divisions between light and dark.
These can be achieved in various places on your property, whether it be highlighting the architectural features on your facade, or shining light through the branches of a tree to create pleasing shadows on a wall or the ground. Whatever effect you are looking for, it can be achieved if you have the budget for it.
Rules Of Thumb — Fall Patio And Deck Lighting
No matter what type of lighting you choose, here are a few things to keep in mind:
Try to keep lights out of people's eyes. This is easier to do with downlighting than with uplighting.
Keep your light sources hidden. Obviously there are some exceptions to this, such as the string lighting mentioned above. But with most landscape lights, especially spot lighting, you want the light to be the focus of attention, not the source. Sometimes there's only one place to put it, and it will always be visible from somewhere, but try to keep it unobtrusive.
Make sure your lights aren't in the way. String overhead lights high enough that they won't get pulled down or run into accidentally. Path lights and standing lanterns should be kept well out of the way of foot and vehicle traffic.
Need More Outdoor Lighting Ideas For Fall?
Of course, the ideas above are just a start. There are so many options for lighting every part of your property: bannisters, rails, decks, patios, walkways and more. Whatever lighting effect your imagination can come up with, it's almost certainly possible to achieve.
Need help turning your fall lighting ideas into reality? We have the landscape lighting expertise you're looking for. Give us a call at 478-750-7733, or contact us online for ideas on creating the perfect lighting effects for your Dublin or Macon property!
Images: String lights, LED ribbon, Lanterns, Path lighting, Stair lighting, Deck lighting