Are you the kind of person who can't wait to get outside? Do you love to cook? Do you enjoy entertaining in your backyard? Then an outdoor kitchen might just be the perfect thing for you!
Outdoor kitchens have taken the landscaping scene by storm in the last decade, and for good reason. For many people, having that extra entertainment space just out their backdoor opens up a whole new world of leisure — so much so that it's not uncommon for them to forego elaborate vacations away in order to enjoy the comforts of home!
Outdoor kitchens can also raise your home value by up to 130%, according to the National Association of Home Builders. There is also evidence that homes with outdoor kitchens sell faster than those without.
What Makes It An Outdoor Kitchen?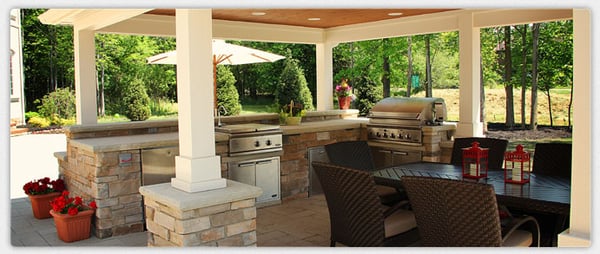 If you like to cook outside you probably already have some sort of grill set up in your backyard. An outdoor kitchen takes your grilling station to a whole new level. Most outdoor kitchens do include a grill. However, that is just the starting point (and is actually optional, if you are one of those rare cooks who doesn't enjoy grilling).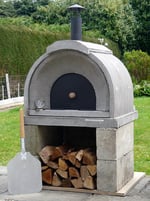 At a minimum, the basics for an outside kitchen include:
range top

oven

built-in cabinets with counter space

undercounter fridge (and possibly an ice maker)
From there, you can add anything you can imagine. How about a wine rack? Bar top seating? Patio furniture? An outdoor TV so you and your guests can watch the game while you pull that homemade pizza out of the wood-fired oven?
Outdoor kitchens are very popular additions to swimming pool areas, but nearly any backyard can host one. They can be added to a deck or patio, or built from scratch. A roof makes a nice addition, whether it is an arbor to block the sun, or a lean-to roof tied on to the back of your home.
Honestly, the options to customize your outdoor kitchen are limitless. That said, just how much does an outdoor kitchen cost to build?
What WIll It Cost To Build An Outdoor Kitchen?
We sometimes find that people are surprised at the cost of installing an open air kitchen. The fact is that it is a substantial investment — for good reason. If you look at an outside kitchen, you will realize that installing one is every bit as much of an investment as replacing your indoor kitchen — sometimes more, if you are including a roof or other structural elements.
Adding an outside kitchen is really adding an addition to your home. Expect to budget at least $10,000 for a good basic kitchen for your outdoors. Of course, if you have the budget and the imagination, the sky's the limit from there.
Much depends upon your taste and your expectations; for example a high-end grill unit can cost $10-15,000 by itself. However, if you love spending a lot of time outside and it enhances your lifestyle, it's worth the expense!
The Process: Your Open Air Kitchen From Concept to Reality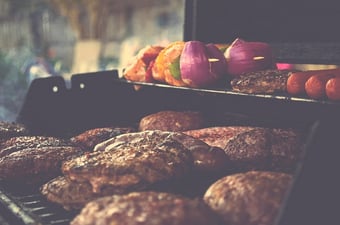 The Call. So you want an outdoor kitchen? The first step is to give us a call. Your initial consultation will take place shortly after you've us. We'll discuss what you want to use your space for — such as casual entertaining, weekend family gatherings, or hosting large parties — and how that will affect the design.
The Concept. We can also utilize the design templates we have available to start planning your layout. These are like puzzle pieces you can move around to create a concept of what your final design will look like.
The Design. When we have a good concept of what you are looking for, we enter the design phase. This usually lasts about 4 to 6 weeks. During this time we finalize the details of the design, including meeting with you to pick out your countertops, appliances, cabinet finishes, and other important aspects of your project.
Breaking Ground. Depending on the weather, we can usually break ground on the project within two months once the quote is approved. That's when the build phase begins! Time to completion depends a lot on your specific project, but most projects reach completion within 3-6 weeks.
Let's Get Started
Ready to start planning an open air kitchen of your own? Get started now and enjoy it all football season. Call us at 478-750-7733 or fill out this simple contact form. One of our courteous and knowledgeable outdoor kitchen experts will be in touch with you soon.

Images: Grilling, Pizza oven, Outdoor kitchen