There it is in your mind's eye: your own backyard, transformed into an outdoor living paradise gorgeous enough to grace the cover of House Beautiful. But when you look at your own big expanse of yard, it can be hard to visualize just exactly how to fill it.
One of the challenges in designing for a large backyard is breaking up the space so that it looks attractive and interesting, while at the same time making it easy and pleasant to spend time outdoors.
Trees and planting beds are essential, but they have limited functionality when it comes to actually spending time outside. In addition to plantings, we highly recommend including hardscape elements — items built with stone, brick, pavers, cast stone, and other durable materials — into your outdoor living area.
They are a wonderful way to achieve a backyard makeover by breaking up an overwhelming space into more intimate and accessible outdoor "rooms."
Top Hardscaping Ideas For Large Backyards
Many hardscape pieces are also highly functional elements that make it possible to truly enjoy life outside. It's just a matter of choosing the ones that most suit your lifestyle and the lay of your land.
Here are some of the most popular hardscape ideas for a large backyard makeover.
Outdoor Kitchens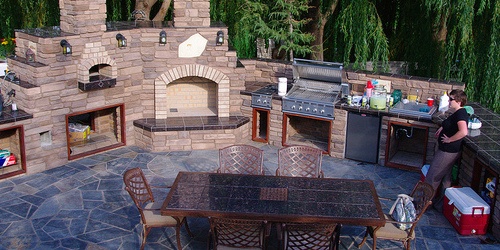 So you love to cook but hate to spend time inside if you don't have to. With an outdoor kitchen, you can enjoy the best of both worlds!
They say the kitchen is the heart of the home, and an outdoor kitchen is no different. It is a place for the family to gather and is sure to become a beloved focal point of outdoor activity for your home.
An outdoor kitchen can be as simple or elaborate as you want it to be. There are many wonderful options to meet nearly any budget, from an austere place to put the Weber grill, to modular prebuilt pieces, even to an entire kitchen custom crafted on site and complete with bar and fully decked out custom grill.
The wide range of outdoor-approved appliances available today allows you to do nearly anything you want to do outdoors, in a way that supports your lifestyle and that will last despite being exposed to the weather.
Water Features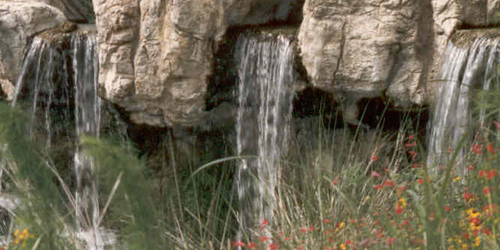 There is nothing like the sight and sound of water to turn a backyard into a relaxing oasis all your own. A water feature lends interest to your yard and is a great way to utilize space in a large area.
If you are interested in a water feature, you have many options to choose from. Fountains are a popular choice. Fountains can be built to suit any taste, from the traditional 3-tiered style to a natural-looking waterfall feature.
We've done a number of fountains that are filled with stones to eliminate having to maintain a basin. We have also created naturalistic ponds which our customers enjoy, not just for their aesthetic value, but for the frogs, birds and other wildlife they attract.
A custom water feature is one component that is not cheap to install. Expect to spend at least $3,000 for a modest one. If your budget is limited, it's possible to add a pre-built water feature like a prefabricated fountain from a big box store for much less — starting in the $300 range.
However, keep in mind that these things typically come with a much higher burden of maintenance. They won't automatically fill or filter themselves and most have tiny pumps that have to be replaced frequently. Like anything else in your landscape, you will find that you get more enjoyment by investing in quality.
Pergola And Other Outdoor Shade Structures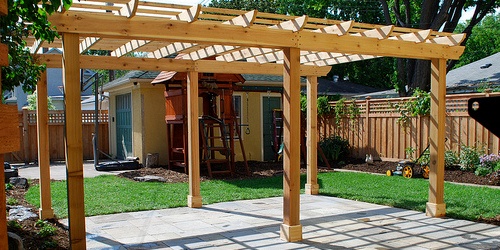 A pergola is a small outdoor room or structure that is open to the sky and typically made with open lattice construction to support vining plants. The plants create shade and a cooling effect, making the arbor a wonderful place to relax or enjoy a meal on a hot sunny day.
Pergolas can be made of various materials, including wood, metal, or structural synthetic components. They are best placed on a hardscaped area such as a concrete slab or paved patio. Some even feature overhead fans for additional comfort.
Fabric shades can be used in addition to or instead of plants for shading and cover. Shade sails are another exciting option. These are wing-like, durable Tencel® fabric rooflike structures that give a pergola a nice modern look and feeling of motion.
The drawback to a pergola is that it doesn't keep off the rain. If you are looking for a structure that will allow you to enjoy your backyard regardless of weather, consider a roofed structure such as a gazebo or pavilion. Larger gazebos and pavilions can even include an outdoor fireplace or enclose your outdoor kitchen.
A particularly beautiful approach for these structures is to include foundation walls or column supports made of block or natural stone.
Nearly any backyard budget has room for at least a modest pergola. Small ones start at about $1,500. Roofed structures typically will run closer to the $10-$30K range.
Fire Effects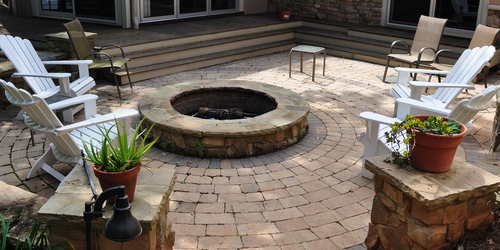 Who doesn't love a crackling fire? A fire element creates a natural focal point in your yard and is a wonderful place for family and friends to gather to share stories or enjoy s'mores.
The grandest type of fire element is, of course, an outdoor fireplace. These can range from modular pre-built pieces to elegant custom-built creations, depending on your goals and budget. Of course a large element like a fireplace does require a larger investment — starting at around $10 -$12K for a basic one.
While a fireplace often has a more formal appearance, many people enjoy the casual feel of a fire pit. These also tend to be more budget-friendly, starting at under $1,000.
Fire tables are another exciting option. They are similar to a fire pit, but rather than being sunk into the ground or slightly built up from it, they are more of an architectural feature built up to table height above landscape. A fire table is usually fueled with low-maintenance, clean-burning gas and may include many fun aesthetic options such as glass beads, lava rock, or even a water feature with bubbles!
For large backyards, there's no reason not to include multiple fire elements, such as a fire pit and a fireplace. This can be especially effective if you entertain large groups because the different fire elements help to create more intimate settings for people to gather and relax.
Your New Backyard: Putting It All Together
Of course, the large backyard hardscaping ideas mentioned above are just the tip of the iceberg. Other elements such as patios, paved walkways, and retaining walls can also be used to enhance the beauty and functionality of your backyard.
No matter which elements you decide you want, it's important to think through how they will all fit together, so that they support the lifestyle you want to have.
For instance, the designer should ideally keep in mind how many people you will normally have there, as well as the maximum number of guests. Where will the sun come in and how will it affect users? What kind of wildlife, if any, do you want to attract? How can maintenance be kept to a minimum by designing features such as corners that don't catch debris?
That's where we come in. Since 1990, we have provided our clients with backyard living areas — big and small — that not only look stunning, but also are inviting and livable, down to the last details. To hear our suggestions for your backyard, fill out our simple contact form or give us a call at 478-750-7733.
Images Outdoor kitchen, Pergola