Recently, we were contacted by a nice couple who owns a property in Glenwood, a tiny rural town in south-central Georgia. It had a lovely view of a beautiful pond. They'd owned the home for a while, but now that they were both retired, they were ready to turn it into the home of their dreams.
This photo shows the existing pool, deck, patio, and landscaping. The couple's place was nice and well-kept, but a bit dated and not the intimate, memorable space they wanted. They needed a landscape architect's touch to turn it into something both highly functional for their current lifestyle and uniquely beautiful—a place they'd be proud to enjoy with friends and family, or just relax in their own personal "staycation destination."
Before: Nice, but nothing spectacular.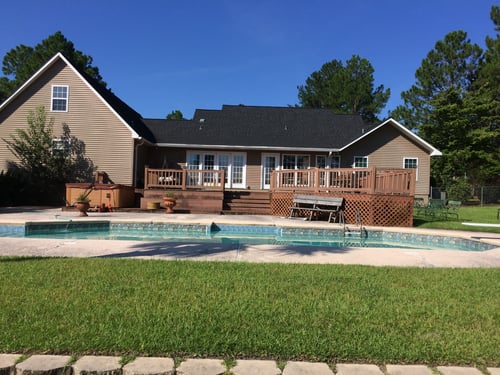 A panoramic photo of the project in progress. What a difference!

Solving Residential Landscape Design Challenges In 3D
The first step was to listen carefully to their needs and dreams. Together, we came up with a list of "must-haves," which included a little bit of everything: landscaping, landscape lighting, covered patio, fireplace, and fire pit. We also proposed a complete renovation of the pool deck, which included the demolition of the old deck and the creation of a new, smaller, and more intimate deck. They loved the ideas, and with a little help from our trusty Phantom 4 Landscape Drone, we delivered.
One of the biggest challenges a residential landscape designer faces with an expansive property such as this one is how to visualize—and, more importantly, help the homeowner visualize—all the different elements on the property as a whole, and what the project will look like when it is done.
Footage and data collected by the drone was invaluable in giving these homeowners a comprehensive 'big picture' of their space and helping them visualize just how we would tie all of the elements – the driveway, the patio, the pool, the view, the pond, the garage, and their home – together. Using drone deploy software, we were able to truly map and capture all the elements to really get a good view and feel of every piece without having to rely on guesswork.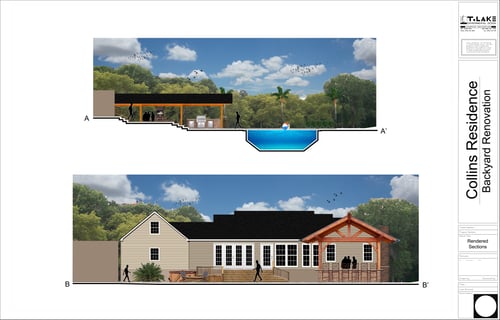 For example, when designing the new pool deck, we were able to virtually transform the area in 3-D so they could see exactly what the new bull nose coping would appear before committing to the materials and design. Similarly, a wireframe of the new porch showed how easily it would integrate with the existing house. And so on down the line, for every element of the landscape.
Thanks to our association with one of the largest manufacturers of outdoor kitchen equipment, T.Lake was able to install a beautiful, functional, modular stone veneer kitchen without the expense of traditional stone-lay building methods. Their covered patio became the intimate grilling and entertainment area they imagined.
What You See Is What You Get: Removing Risk and Uncertainty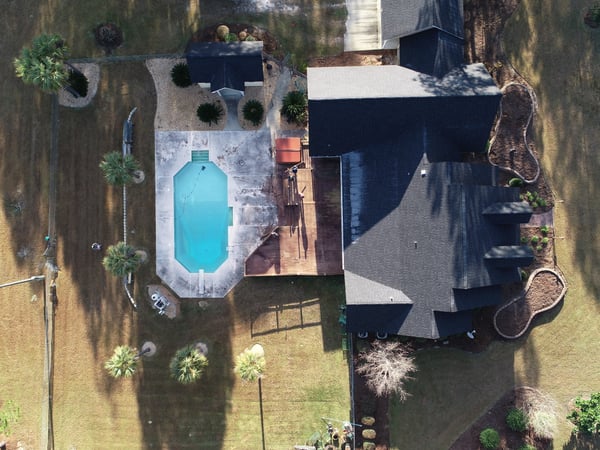 When combined with CAD imaging, the Phantom 4 Drone is a powerful tool, especially in residential landscape design projects of this magnitude. The client probably spent as much on the landscape renovation as they originally spent on the actual home. Naturally, we wanted to remove all risk for the homeowner. We offered realistic views and solutions for their outdoor living area.
As you can see from the image above, the drone captures images of stunning clarity – down to the last pebble – from 45 feet above. And, not only can the homeowner see exactly what his site looks like now, but also what it WILL look like when completed. CAD imaging showed the folks just exactly what their beautiful new space would look like when it was finished.
No disappointments, disagreements, or buyer's remorse. The old saying is true…a picture IS worth a thousand words.

Looking for Residential Landscape Design That's A Cut Above?
Of course, every successfully completed project is the culmination of much hard work by actual human beings. In this case, our project manager Robert Arrington was able to skillfully interpret the client's vision and clearly communicate the desired outcome to our hard-working craftsmen.
When you work with T. Lake, you really do get the best of both worlds: the precision and efficiency that comes with cutting edge technology, and the caring and artistry that only the human touch can bring. If you are ready to move forward with that dream landscape project of your own, and looking for something "above and beyond," why not give us a call?