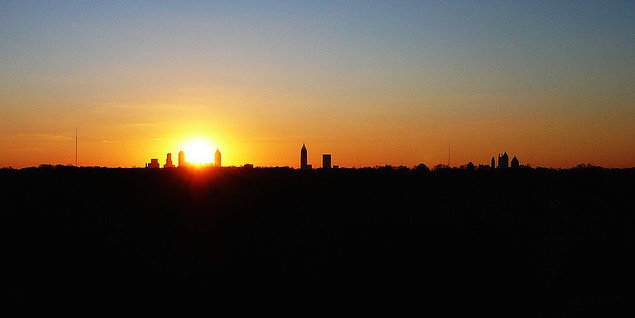 When someone approaches your property at night, what do they experience? Are they impressed? Can they find their way easily? Do they feel safe?
Your landscape lighting is one of the biggest variables in making or breaking their experience. Lighting is often overlooked when it comes to landscape-related budgeting, but it shouldn't be.
Lighting is a safety essential for your commercial property. The right lighting can also enhance your brand and even save you money.
While still an emerging technology in Georgia, solar-powered commercial landscape lighting is one of the most exciting options we are aware of in terms of these benefits and more. We have excellent solar exposure here, second only to the American West and much better than the Northeast and Europe where there's higher usage.
Solar Lighting Can Be A Cost Competitive Option
The quality and efficiency of landscape and architectural lighting has made huge leaps and bounds over the past decade. LED lights in particular have become much more affordable and offer huge ROI potential. The newer controllers also provide an enhanced appearance as well as improved, zoning and functionality.
These improvements, along with improvements and continued price drops in solar technology, are quickly bringing solar lighting into the mainstream for forward thinking companies and municipalities.
Solar lighting does require a larger upfront investment. However, lighting is one of the most energy-intensive aspects of your property.
Solar lighting typically pays itself back quickly — often in under four years in commercial applications — and provides free electricity from there on out. Since solar panels can be expected to last 20 years or more, the savings are substantial. Solar lighting is also a smart way to insulate yourself from future energy price spikes.
Grid-tied Vs. Off-grid — Which Kind Of Solar-Powered Commercial Landscape Lighting Is Best?
Your solar panels can either be connected to the electricity grid, or feed into a battery bank which becomes the source of power for your outdoor lights. There are pros and cons to both.
Going Off-Grid: Prepared for Any Emergency
One of the most impressive things about off-grid solar lighting is that if the power goes out in your area, you'll still be lit.
We have a municipal customer who lost power for 16-18 hours. The blackout affected the entire community — except the roadways where we had installed solar lighting. Our contact took a drive through town at 11 at night and was surprised to find that even though the rest of their world was dark, the streets were still lit up.
For this reason, we recommend considering off-grid solar lighting for signage, security areas, emergency egress, and anywhere else where lighting is critical. Solar lighting makes a lot of sense to include as part of your emergency preparedness plan.
A battery based solar lighting system is also an extremely attractive option in areas where it's cost prohibitive to get power and conventional lighting. This includes cases where you:
have to cut up paving in order to run an electric line

have a conflict with existing utilities

need lighting in a remote area far from any transformer or main service line

want to power small numbers of fixtures way back in a parking lot or far corner of your property where you don't have ready access to power


Off-grid solar does require purchase and maintenance of a battery bank. A battery system may require 50% more or so up front. Solar storage batteries currently have a life expectancy of 10-15 years, which is nearly double that of 10 years ago. Battery technology is improving rapidly and as solar batteries continue to improve we expect efficiency and life expectancy to continue to rise — with a corresponding rise in ROI.
We actually installed the very first solar street lighting system approved by the Georgia DOT, right here in Dublin GA along US Hwy 19, US Hwy 441, and US HWY 80.
They're dark sky compliant architectural fixtures, each with its own solar panel and battery storage. Each pole is stand alone and independent. Because they're not connected in any way, if one gets damaged it will not affect the performance of any of the others — a significant advantage these days when natural disasters and terrorist threats seem to be becoming a regular part of life.
Grid-Tied Solar Lighting: Convenience and Extra ROI
Off-grid is not for everyone, however. Many companies choose to keep their solar lighting connected to the grid. One of the biggest advantages for doing so is the ability to sell extra power back to the utilities — a practice that was recently upheld by the Georgia legislature. This is excellent news for anyone looking to minimize their power bill.
Being grid-tied allows you to run your lights off the sun without having to store or maintain bulky battery banks. You will also always have unlimited power in the event of an extended cloudy spell, or in the unlikely event that a panel gets damaged.
Considering Solar Outdoor Lighting For Your Commercial Site? Think Long Term
With outdoor solar lighting, a lot of things are fixture and site dependent. As with any other landscaping investment, it pays to crunch the numbers and consider the long term cost as well as all aspects of the project.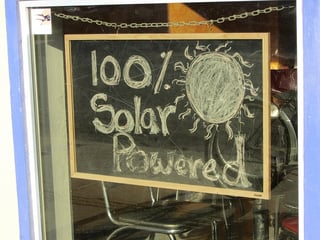 For example, you may already be aware that prices on traditional lighting installation have risen substantially in the past few years. A lot of lighting has been installed by utilities and leased to local governments.
Those price structures can get expensive and don't always make sense for tax dollars. With a solar lighting system, you own the fixtures and need only budget for a set upfront cost.
On the other hand, if you go this route you will then bear the responsibility of system management and maintenance — whether you outsource this job or train your own staff to do it.
Only by sitting down and examining the pros and cons as well as the short and long term expenses will you know whether solar is the right outdoor lighting for your commercial property. When you do, we encourage you to project your investment out at least 20 to 30 years for an accurate picture.
You may very well find that solar is the best option for you. But even if you don't, keep in mind that nearly everyone can benefit from more efficient lighting.
I have a friend who manages 20 car dealerships and is changing every bit of lighting in every dealership to modern LED lighting. He's getting much better color and a much lower operating cost and an almost immediate ROI. You can, too.
Sorting through commercial lighting options can be confusing at best. We have the landscape lighting expertise you're looking for. Give us a call at 478-750-7733, or contact us online for ideas on the perfect lighting solutions for your Dublin or Macon property!

Images: Atlanta sun, Solar panel up close, Solar powered sign