Got a call recently from some friends who had just returned from a trip to Spain. While there, they fell in love with the simple but formal European garden look – the sculpted topiaries, pollards, and tasteful incorporation of architectural elements in the landscape. Could we recreate something like that for them?
But of course.
We actually hear requests like this quite a lot from people who see things on their travels that they'd like to bring back home. And who can blame them? Traveling to England, France, or Spain, for example, and seeing the great works of landscape design that began the whole European garden movement, is inspiration enough. But when you start to think it through, why not turn your yard into a place you'd want to visit?
Your home and the grounds surrounding it are one of the biggest investments you're likely to ever make—both financially and emotionally. It's exciting and fun to travel, but home is where you spend the lion's share of your time—especially that most important time of all, the leisure time you have to pursue your own interests and spend with the ones you love. Incorporating something of your favorite places from your travels into your own yard and garden lets you have the best of both worlds.
So, we thought we'd suggest a few ways to bring some international flair to your own yard and home.
6 Travel-Inspired Landscape Makeover Ideas
Zen-inspired gardens – From the carefully-planned naturalism of a classic Japanese garden, to the boulder-studded, raked-sand Zen meditation garden, the Japanese aesthetic is hard to beat if you're looking to turn your yard into a truly serene oasis of peace and tranquility.
Tuscan garden – Want to make a bold statement with fun appeal? Try the Mediterranean look. Warm-toned patios and retaining walls paired with easy-care ornamental grasses and bright-blooming perennial herbs and flowers make for a low-maintenance getaway—perfect for casual get-togethers and carefree lounging with book in hand. Tuscan-style landscapes are water-wise, too, for an added bonus.
Classical Greco-Roman architectural design – If mathematical precision and stately symmetry is more your style, consider the classical approach to landscape (epitomized by the work of one of our favorite modern landscape architects, Georgia native Quincey Hammond.) Classical architecture can also lend a sense of timelessness and stability to an otherwise more romantic-looking landscape, for example in this residential pool project we did a couple years back, which incorporated the Fibonacci sequence into its architectural dimensions.
French country garden – Maybe you like the symmetry of the classical look, but don't want to go quite that austere. The French country look could be just the ticket for you! Clipped hedges and topiaries, rustic stone hardscape, and impressionistic plantings combine to turn your yard into an irresistibly romantic continental-style getaway.
English cottage garden – For something just as romantic but even more relaxed, try the English cottage look. Winding garden paths, hidden reading nooks, and perhaps a rustic garden shed, rambling stone wall, and/or a few whimsical sculptural elements combine with colorful and carefree plantings to turn your yard into its own little world with a magic of its own.
Rustic escape – Therapists now are touting forest bathing as a practice to help aid in relaxation and healing. But you don't have to pack up and head for the mountains to enjoy the benefits. You can create a similar effect in a part of your yard—a hidden oasis of trees allowed to grow in a natural way. Combine it with outdoor living essentials crafted with a woodsy aesthetic—perhaps a hewn rustic timber frame shelter, big stones, and a fire ring—and you have a built-in hideaway place you can retreat to for a little wildness whenever you need a bit of respite from everyday life.
Of course, these suggestions are just a start. The possibilities are endless! But regardless of what part of the world inspires you, it's worth the time to consider all the elements that go into your themed garden carefully: not just the materials and look but the fragrances, the textures, all those little things that combine to set the tone you are looking for.
Don't forget the practicalities, too. After all, your staycation should help you feel relaxed, not overburdened with garden care. We can help you find appropriate plants and create designs that are just as user-friendly as they are beautiful—and that integrate in an intelligent way with your existing site and architecture.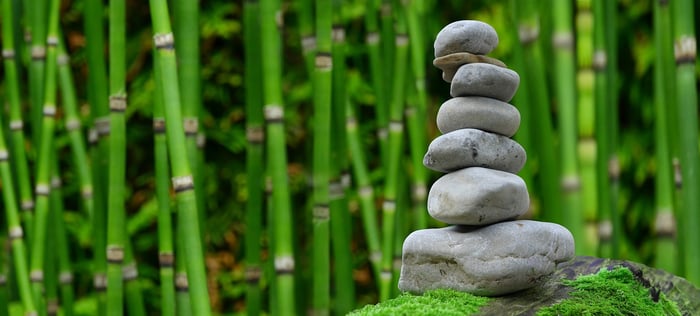 What's Your Ideal Stay-At-Home Getaway?
If you've settled into your home and built some equity into it, why not consider how you can make the most of that investment? Why not craft your property into a place you just love to be in, a place that brings you joy, peace, respite, and fun? Whether to you that means living it up with groups of the friends you most love to entertain, or secreting yourself away in your own private retreat—or a little of both—we can help you achieve it. Just give us a call at 78-750-7733 or contact us here to get started.