The landscape is the first thing you see when you drive up to your home. It sets the tone for your whole experience being there. A tired-out landscape leaves you feeling just that: tired or dissatisfied. But a landscape that looks vibrant and inviting lends a positive feel to the home. When you start getting that tired feeling every time you look outside, it's time to start considering

landscape renovation

.

In our area, we have a ton of homes that were built in the 1950's—1970's. A lot of these are still sporting tired old plants and patios from decades past; needless to say it's just time.

In other cases, the property might be turning over to younger buyers who need a yard that suits their lifestyle. Same goes for homeowners who are approaching their golden years: they want to consider how the landscape can support their changing needs.
6 Popular Landscape Renovations: How Much Do They Cost?
Regardless of the reason for renovation, the two big questions in everyone's minds when it comes to residential landscape renovation are: Which solutions best meet my needs, and How much will it cost?
With that in mind, let's take a look at some of the most popular landscape renovation trends this summer, including what you can expect them to cost when properly installed.
Patios And Outdoor Living Space.
Adding a nice patio or outdoor living space is one of the most popular ways to update the landscape, and for good reasons:
A nice outdoor gathering space expands your living area at a fraction of the cost of a home addition.

Whether stone or brick, masonry lends a classy touch to the home and can add significantly to home value.

When done well, a paved area is a great way to visually tie the landscape to the home to create a unified look to the entire design of your property.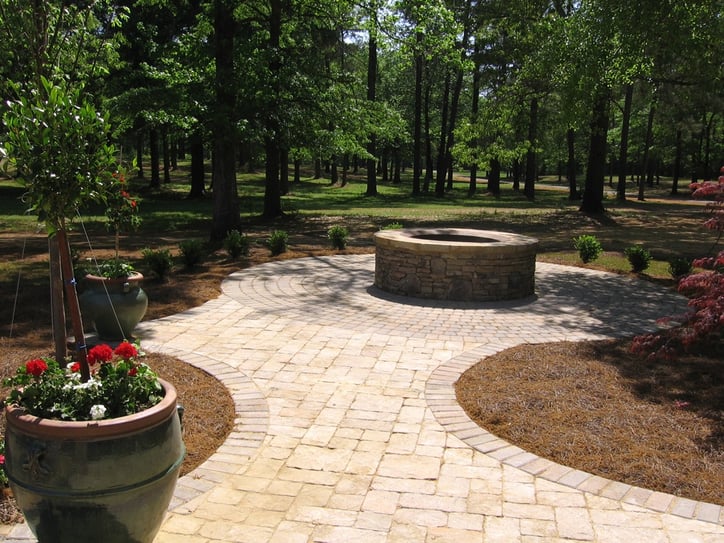 As a general rule, you can expect to spend $10-$25 per square foot for a nice outdoor patio. Factors affecting price include material quality and availability; size (typically, the bigger the patio the lower the cost per sq. ft.); site accessibility; and existing features and conditions that must be worked around and/or taken into account such as trees, buildings, and topography. If the project involves removing an existing structure there will also be demolition costs; we'll talk more about that later on.
Foundation Plantings.
One of the quickest ways to freshen up a home's exterior is to replace overgrown, struggling, or out of date foundation plantings with fresh new ones better suited to the current home. For quality plants and design, this type of project starts at around $1,500 and can go up to whatever you want to spend on it. We see most suburban landscape transformations falling between $15,000 and $30,000. Cost factors include:
Demolition and removal costs

Quantity and size of existing landscape

Accessibility to site

Size and type of plants to be installed
Lighting.
Landscape lighting can make a huge difference in nighttime safety as well as aesthetics. Basic landscape lighting for a house can run anywhere from $1000 and up.
What does a basic landscape lighting package look like? It depends on your needs. A common request is classic front entrance lighting and pad lights. Or perhaps it might be a few lights to highlight a specimen tree in the yard.
We quote $1K as a minimum because there are some things that must happen in every lighting job regardless of size. Landscape lighting is typically low voltage lighting and requires a transformer, which is a big part of the expense. There is wiring, and a power source, and the cost of the electrician's labor. Other things that influence cost include the quality of the lights used and the architecture of what you're lighting: some things are easy to illuminate, and others require a great deal of creativity to get the desired effect. Accessibility is another issue: a project where the lights can be ground mounted will cost less than one that requires scaling a 30 foot tree!
Irrigation.
While it isn't an aesthetic feature in and of itself, an irrigation system supports nearly everything else going on in your landscape. Like all mechanical systems, it will wear down with time and eventually need renovation or even outright replacement. If the system has not been receiving regular maintenance, this will happen sooner rather than later—especially as we are dealing with components that move up and down in the dirt, get run over by mowers, and are mostly made of plastic. Not to mention that a typical Georgia landscape irrigation system is under pressure 90% of the time, anywhere from 30 to 70 pounds of force per square inch.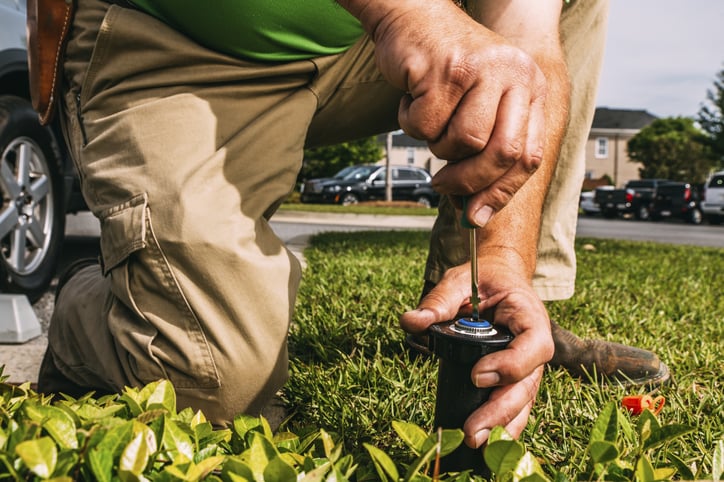 Other reasons to renovate your residential irrigation system include adapting it to changes in your yard and landscape; the desire to save water by switching to drip irrigation and/or upgrading to newer, more water-efficient controllers, heads and emitters; or wanting the convenience of modern smart irrigation technology that allows you to control the system from your phone.
We usually do irrigation system renovation jobs on a time and material basis after establishing a budget with the client. That is because in most cases it's nearly impossible to determine in advance what the true scope of the work will be. Price points can run from $500 to several thousands, depending on the size and scope of the renovation.
Structures.
Adding a simple outdoor structure can do a lot to refresh the look of your property by creating a unique focal point and/or filling "dead space" in your yard or garden. Many people like them because they are relatively low maintenance compared to something like a water feature.
Structures can be functional ones like gazebos, pergolas, and benches; or purely ornamental, such as planters, statuary, and follies (small buildings that are intended to be purely decorative rather than functional.) You can find a structure to fit virtually any budget. A fairly decent piece can run you as little as $250 installed, while larger pieces can easily exceed 5 digits. You will also want to budget for any adjustments you need to make in the landscape around the structure.
Retaining walls
A retaining wall can transform a landscape where you are looking to reclaim space. On a site with an unusable slope or that has a bad erosion problem, a retaining wall can make the space useable as well as adding a nice-looking accent to the site.
Costs for installing a new retaining wall run about $15-35 per lineal foot depending on size. Unlike patios, a larger retaining wall project will typically run more per unit of size. That is because walls over 10-15 ft. tall require a larger mass of materials per lineal foot as well as bigger stone which costs more. The quality of materials used also impacts cost.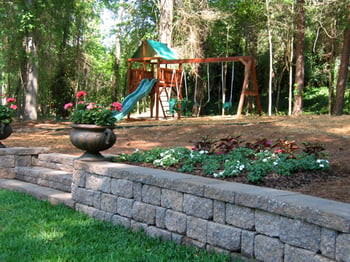 The price goes up immensely where you have an existing retaining wall that needs renovation work. Failing retaining walls typically require a lot of demolition and cleanup (as well as thought and engineering) before we can even get started. It's not uncommon for retaining wall repair to run $40-50 per sq ft because the work involved is often literally double what it would cost to build from scratch. (This is also true for many other hardscape projects such as patios: a good argument for hiring a contractor who will do it right the first time.)
Thoughts On Demolition
As long as we are on the subject, let's delve a little deeper into the cost of landscape demolition. For any project, you have the option to do the demolition yourself. Sometimes people think they will save by doing this, and you might, but it's best to consider all angles before deciding it's the right choice for you.
How much you may save by doing your own landscape demolition depends on a number of factors, including:
Your experience doing such work

Cost of equipment rental

Tipping fees and/or dumpster rental

Accessibility (Is it a wheel-barrow job or can you get a backhoe in? A hard-to-reach site can add days to the project; whether you're renting equipment or just putting in time that adds up fast)

Physical risk (some projects are just plain dangerous to undertake.)

The value of your time
In today's world not many people want to do their own demo any more. Even if you do, it's wise to consider whether it's worth the trouble, or if it would actually be more cost-effective to have us do it for you.
Does Your Landscape Need A Facelift?
If many of these cost ranges seem wide, it's because when it comes down to it, within reason we can work with you to meet your budget. If your budget is limited, we will help you come up with a landscape renovation solution that meets your needs without breaking the bank. If you have great aspirations for your landscape and the budget to match, we'll work with you to bring your wildest dreams to reality.
It all starts with a phone call. Call 478-750-7733 or reach out to us online and one of our landscape renovation experts will be happy to help!