Trust. It's a rare commodity any more. If you can believe the research, trust in business hovers just over the 50% mark these days.
It's easy to see why. Any company can put up a flashy website that makes them look like the answer to all your prayers. But if they don't show up when they are supposed to and do what they say they're going to do, what use are they?
It's no different with employees. That's why we're so lucky to have Greg Davis on the T. Lake team.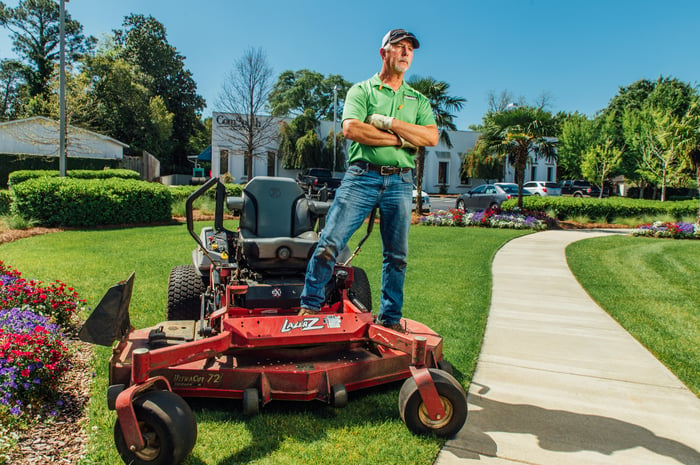 A Guy People Count on at Work…
Greg has done a great job as a T. Lake maintenance crew leader for the past 6+ years. He came to us with 15 years experience in golf course maintenance and with Bob Johnson's recommendation, so we knew he was a reliable guy. But he's humble about it.
"This is different from golf course work," he says. "I had a lot of learning to do. I still don't know everything. You have to be careful with everything you do."
Greg says the most challenging aspect of being crew leader is time management—making sure all the essential things get done on each job in the amount of time allotted. "When you have five to seven stops in a day it can be hard to get everything in."
To meet this challenge and make sure it all gets done and done well, Greg has become a master of planning. On the way to each job, he briefs his crew on exactly what needs to be done, and what tasks are top priority. That way, they are prepared to hit the ground running as soon as the truck rolls to a stop.
Asked to recall his proudest moment at T. Lake, Greg lights up. "We got the Yard of the Month a while back, which was a pretty neat thing. That was a big deal." To be honest with you, if Greg is in command of a property, it's always going to be kept in yard of the month shape.
…and at Play
Outside of work, Greg enjoys getting out in the field to hunt and fish, so he fits in well with the rest of the T. Lake gang. If you see him out there, you're sure to also meet his constant companion, a five year old Chihuahua named Dexter. "He goes everywhere I go. He loves to play catch, loves to try to catch fish," Greg explains with a grin.
Once he gets those fish home, it's time for another of Greg's favorite hobbies: cooking. Greg grew up in Dexter and learned how to cook up a great Southern meal from his grandmother as a kid. Since then, he keeps expanding his menu by watching cooking shows on TV. Whether in the kitchen or at the grill, you can count on Greg to serve food up right.
And then, there's family. Greg has three grown kids, but especially loves to spend quality time with his two grandchildren, Hailey and Ty. 7 year old Ty loves to play ball, and Greg, as a former Little League coach and baseball fan, never lets an opportunity go by to practice playing catch. And 13 year old Hailey? "She's extremely smart so she kind of does her own thing. She's in a lot of competitions, she'll be in one this weekend with her dog. I just support whatever she wants to do."
A Simple Secret
Greg's not the kind of guy to toot his own horn. But, if you ask him about the secret to his success, he'll tell it to you straight:
"Being honest. Not saying I'm going to do something that I know I can't do. When I tell my customers I'm going to do something, I'll be there and get it done."
And that, in a nutshell, is what we look for in employees. We're proud to have Greg on our team!