They say variety is the spice of life. If that is true, then for someone who has held the same job for 20 years, it would be safe to say that Bob Johnson is a well-seasoned guy.
Bob has been with T. Lake since almost the very beginning. A former classmate of Tim Lake's at the University of Georgia, he started helping out part time while still employed as a golf course superintendent in Dublin, GA. One thing led to another, and before long Bob said goodbye to the golf course and came to work full time at T.Lake, doing landscape design and sales.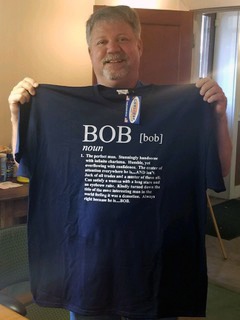 "It just sort of happened" said Lake, of Bob's joining the firm. "T.Lake was in rapid-growth mode and I was running all over the southeast, doing everything from stormwater design to overseeing the maintenance division and running construction jobs. It was full-out insanity. Bob came in and took over all the field operations and things started to hum. About a decade later, he led our LEAN journey, teaching our people how to hold a Kaizen event and 6S the shop, and he will be doing that again this year. He's a grumpy old cuss, but he has seen and done about everything and has lots of wisdom to share."
When asked about the dangers of hiring your old roommate, Lake is quick to say that should be done with great caution, but "with Bob, I've never questioned his loyalty. We've stomped a lot of ground together, both high and low. He has my back; I have his. The rest works itself out.
"If I could just get him not to tell 'Tim' stories to the younger crowd...they don't need to know about our fighting and girl-chasing days too much. I did stab him in the hand with a fork one time over a rice crispy treat and he brings that up. I warned him not to take it, so it was fair."
Apparently these things build bonds among men.
Thriving on Variety
Twenty years later, Bob is still at it. But despite being at the same job for two decades, you won't find him in a rut—not if he can help it, anyway. Now the Vice President of Design Build, Bob says the thing he loves most about working at T.Lake is the firm's versatility, which brings plenty of variety to the work.
"We've just done such a wide range of jobs. I like the variety that we run into. We can do really intimate spaces on someone's residence, and next week we can be doing a 150 acre industrial site. You don't get bored," he says, adding with a grin, "You might get aggravated but you don't get bored."
Some of the projects Bob has enjoyed the most over the years have been the "weird stuff," things not every company will do. "I like to do things that aren't really in our wheelhouse because you're learning and adding to your experience," he explains.
For example, not many landscape companies in Georgia will work on landfills, but T. Lake is currently working on a landfill project in the Dublin area. "It has to be certified by the state EPD," says Bob. "There's a lot of hoops to jump through but that just adds to it."
On the Go
When he's not at work, don't look for Bob in front of the T.V. set. He much prefers to be outside hunting, fishing, or working with his Labrador retriever hunting dog, Magnum.
Or, you might find him in another part of the world altogether. When he gets the chance, Bob loves to travel. He has traveled all over Europe as well as most of the U.S. and Canada. When asked about his favorite place to visit, he doesn't have to stop to think. "Italy," he says without missing a beat. He fell in love with that country while on a semester exchange program through the University of Georgia. "You can find just about everything in Italy, from hot, humid beach resorts to mountains. There are good people there. I love the food and I love the history. The food is nothing like the Italian food you get here. I can hardly eat a pizza anymore."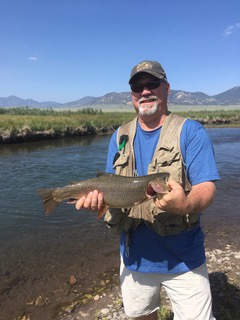 Motivated by Excellence
Above all, Bob is a team player. When asked the secret to his success, he says without hesitation, "We've got good people that will get in and do what it takes to get the job done – and they care about the work."
That, however, doesn't mean life at T. Lake is all work and no play. Bob says there have been thousands of funny moments over the years, like the time when someone put talcum powder in John Barryhill's air conditioner vent. But the funniest moments, he says, are "when we sell a big job and don't tell Tim about it until later on, and he does the cookie dance."
As fun as the occasional prank can be, ultimately Bob's greatest satisfaction comes from the work itself. "We all jump in and help each other. I enjoy the people and completing the job, and I enjoy transforming a not so great site into something people can use and enjoy."
In the end, for Bob Johnson the cherry on the cake is a job well done – and one type of routine he will never tire of.