"They're cutting my budget - again! My staff has shrunk, and I still have all these sumptuous plantings to deal with, not to mention hardscapes and water features galore. How can I make it work?"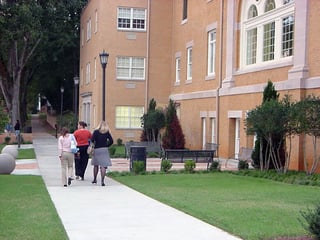 The concept behind having college landscape design guidelines is sound.
A good landscape master plan can help ensure consistent design for a pleasing and unified campus appearance that meshes well with campus and surrounding architecture.
It is also helpful in creating a landscape environment that meets the diverse needs of all campus stakeholders. And it can be an especially useful tool for ensuring that proper landscape safety procedures and precautions are met.
When these goals are addressed in a practical manner, all is well with the world and the college landscape master plan can be a valuable asset. However, when campus master plans don't mesh with reality and/or demand impractical requirements, they can cause untold headaches for those whose duty it is to implement them.
What Should Be Included In College Campus Landscape Planning?
Campus design guidelines often fall short of reality. If you are in the process of creating a campus landscape master plan, or are thinking of updating yours, here is a checklist to help you keep it practical and useful for years to come:
Cost Awareness
Campus master planning documents are usually large, beautiful and esoteric, but they often don't address one of the most basic elements of landscape planning: budget. While it's quite possible to create a beautiful landscape on a reasonable budget, it's just as easy to move beyond the practical. This often happens when landscape architects don't think about the reality of what it costs to build and maintain a landscape. Just as a quick example, water features are wonderful additions to a campus landscape, but they are expensive to install and most require a lot of labor to properly maintain.
Long term viewpoint
For a campus master plan to be effective, it must take into account not just the current budget and initial cost of landscape design and installation, but also long term maintenance, life cycles, and future allocations.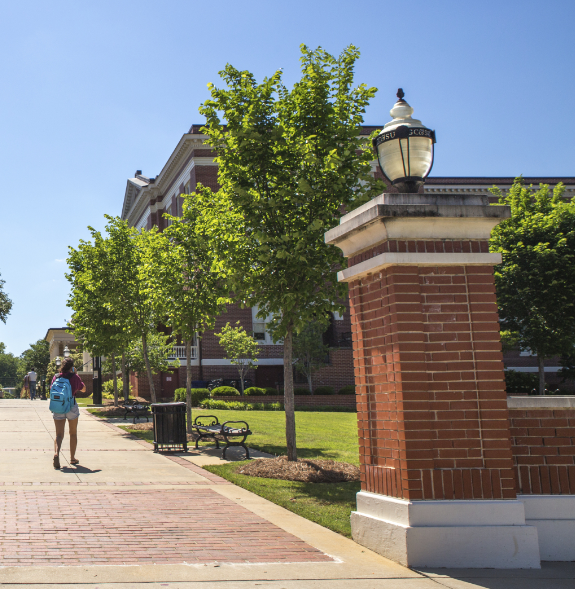 Here are some questions to consider when creating a campus master plan:
How frequently will the planned landscape features require renovation or replacement?

What sort of equipment will be required to maintain them? Could alternate options reduce the need for costly equipment down the road, and/or extend the time between costly upgrades?

Is there enough cushion in the budget to provide resilience in the face of potential future budget cuts?

How will it mesh with existing and future infrastructure changes, such as the addition of new buildings?

Will it overtly increase the cost of infrastructure upgrades? For example, having to move or remove a water feature could add considerably to the cost of building a new campus structure.
Labor Availability
Campus landscape management often relies heavily on student labor. Planners should keep this in mind when designing landscape features. It might be best to think twice before implementing landscape designs that require complex management or highly skilled labor. Simple-to-maintain landscaping can be beautiful, too!
Landscape And Infrastructure
A campus is a dynamic, constantly changing environment. Sewer lines may burst, phone lines be replaced with fiber optic cables, new buildings constructed, new roads built. How will the proposed landscape interact with stormwater, utilities, and other infrastructure? How might changes to these impact or disrupt it?
Safety And Security
As with any publicly accessible property, safety is a huge concern that is often overlooked by campus landscape planners. Anyone involved in creating a college landscape master plan should take safety and security issues—from traffic visibility to snow removal to rape prevention—very seriously. (Our previous post on commercial landscape legal liabilities is a good place to start research on this topic.)
Need Help Developing Realistic Campus Landscape Design Guidelines?
Everyone needs a master plan, but if it isn't grounded in a pragmatic approach you will find yourself with not enough money and/or labor to maintain it in the long term.
Whether you are designing a new campus master plan from scratch, or are looking for ways to lower college campus landscaping maintenance costs, you'll want to work with someone who can help you create a positive long term impact on the sustainability of your campus landscape.
When you come to T. Lake you get people who are not only planners and landscape architects but also have over a quarter century's experience in installing and maintaining complex landscapes and water features. We know how to maintain those environments and can offer unique insight into how to effectively balance the aesthetic with the practical.
We know how to build beautiful things that inspire you but can also be maintained by normal landscape worker with just a bit of guidance from us. Call us and we can help you achieve that. You can reach our Macon office by calling 478-750-7733, or our East Dublin branch at 487-272-3878. Or, simply fill out this short request form online and we'll get back to you soon!