A few weeks ago, we introduced our new landscape drone, the DJI Phantom 4 Pro V2.0 quadcopter. In that post, we told the story of the commercial earthwork project that inspired us to invest in this little beauty. Now, let's take a closer look at exactly how useful a landscaping drone can be on a commercial construction or civil engineering job.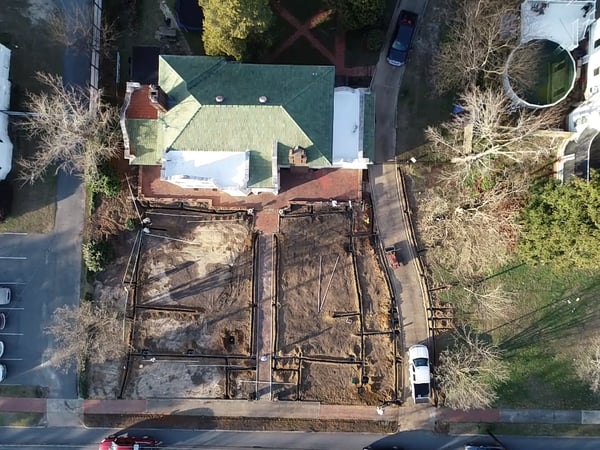 Faster, More Efficient Inspections
Until now, inspecting a large, heavy commercial work site was no piece of cake. These sites can cover many acres and sometimes the territory is rough and hard to access. For instance, the project mentioned above is a 20 acre active industrial landfill containing huge mountains of debris and working heavy equipment.
In the past, we would have had to send someone to physically inspect the site from the ground. This is a challenging and occasionally risky task that can take many hours – and sometimes, there are areas of a site a person on the ground just can't access to see what is going on.
With the drone, we can easily get a clear aerial view of any site. The landscape drone can quickly cover many acres in a fraction of the time it would take to inspect manually. As an inspection tool, a drone is "da bomb" for lowering the cost of internal or external compliance review.
More Accurate Progress Tracking
Speed isn't the only advantage the drone brings to inspections. It also gives us far better capabilities when it comes to seeing site details on a regular basis. This is invaluable for progress tracking.
The drone enables us to quickly zoom in on details of the landscape and see exactly what is happening with ditches, drainage ways, slope cover, even gutters and rooftops. Without having to wait for someone to drive or walk the area, we can safely and comfortably monitor progress on a commercial construction site better and more cost effectively than ever.
Cost Effective Surveying And Mapping
Everything that applies to inspections and progress tracking goes for surveying, too. The landscape drone is quite simply a far more efficient way to survey and map an area.
Formerly, a surveyor would have to come out to a site and shoot hundreds of data points with bulky survey equipment. With the drone, we have accuracy within 2 cm. When tied into known longitude and latitude benchmarks, we can fly a site in 13 minutes that would take a surveyor 2 days to cover and another 2-4 days to process, load the data set and have a point cloud and dsf download in less than 4 hrs. Needless to say, this access to almost instant data allows us to respond to needed changes and move the project along much faster and more cost effectively, without sacrificing quality.
Lower Safety Risk
On sites such as the one described above, it's not uncommon for the client to express concern over our safety as we inspect the site. With the drone, such concerns are eliminated.
Improved Documentation And Design Capabilities for Commercial Construction
The internal engineering applications of the landscape drone are also stellar. The drone can collect all kinds of engineering data, such as volume of earth moved, change in volume of material moved, how much material remains, and how well the project is conforming to the grading plan or design. From an engineering standpoint, it literally allows us to see in detail what's going on at any given interval, which helps immensely in making sure the project is done to spec.
If you're not an engineering or landscape architecture geek please excuse the techno-babble, but if you are you will appreciate how awesome it is to be able to load drone-generated data into Civil 3D or LandFX and manipulate it to create isopachs and topo maps in very small amounts of time.
In layman's terms, that means we can quickly and easily generate 3D maps and models of your property that illustrate, for example, differences in elevation from existing to proposed. We can set it up with various parameters—for instance, is something higher or lower than it should be?—so you can see in a far more realistic way what a proposed project will actually look like. (I could go on about this, but that's a subject for a future post.)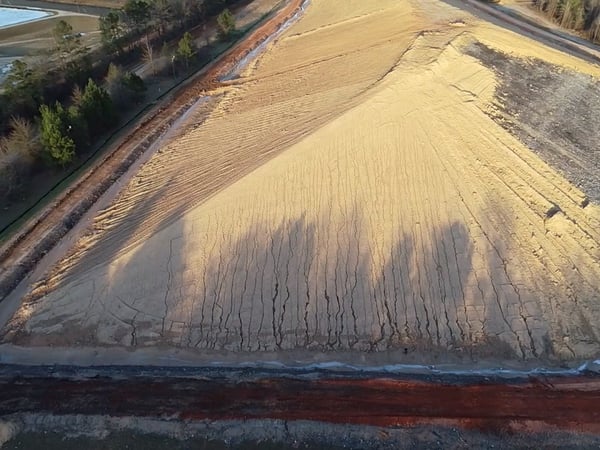 Better Communication
We didn't anticipate this when we first purchased the drone, but it is such a great communication tool that our clients get almost as excited about it as we do.
The landscape drone enables us to offer:
Extremely detailed, timely project documentation.
An easy way for clients to keep their team up to date: even remote corporate team members can access data in real time as we generate it.
Enhanced design project visualization so clients can see exactly what a proposed project will look like.
Faster and more efficient project execution, because we use drone data not only to stay on top of the project but to communicate internally and with our subcontractors.
Plus, there's the cool factor. Drone footage is shot at 4K resolution and it's just plain fun to get a cinematic aerial tour of your property on wide screen with drone footage set to music. Some of our project partners have even asked to get a copy for their website.
Drone-Enhanced Landscape Construction Services
Call us today at 478-272-3878 or contact us here, and let's talk about how our landscape drone can help you lower costs, speed completion, and improve communication on your next commercial construction or civil engineering project.