There is a common myth that running a business sustainably is expensive. It's an understandable misconception. In recent years the market has exploded with overpriced products claiming to be eco-friendly, on the condition that businesses pay big bucks for installation and upkeep, not to mention the fees should something go wrong.
Here at T.Lake, we prefer to keep things simple. Our 30 years as an environmental design business have taught us that sustainable practices are the key to sustaining a healthy bottom line. True sustainability is about efficiency - both environmentally and financially. It's one of those win-win situations that we like so much.
Water, Water Everywhere
As property owners, one of our primary outdoor expenses is irrigation. Outdoor spaces need water to flourish, particularly here in Georgia, where the summers tend to be long and hot. Proper hydration makes the difference between a lush, green lawn, and one that resembles a dusty jute carpet, and can make or break your entire landscape. As such a valuable commodity, you'd be forgiven for assuming that most irrigation systems had been built with efficiency in mind. Unfortunately, this is not the case.
According to the US Environmental Protection Agency (EPA), half of all water used outdoors in the USA is lost to wind, evaporation, or runoff. And inefficient irrigation systems are the culprit. The average homeowner loses up to 25,000 gallons of water every year due to badly designed systems. This equates to hundreds of dollars in wasted resources, in addition to the obvious environmental impact.
Luckily, there is a solution - and it's simpler than you might think.
Weathermatic SmartLink
Earlier this year, T.Lake announced a new partnership with the pioneering irrigation company, Weathermatic. Founded in 1945, Weathermatic is an industry leader in irrigation technology, with a portfolio of products designed to make irrigation systems more efficient.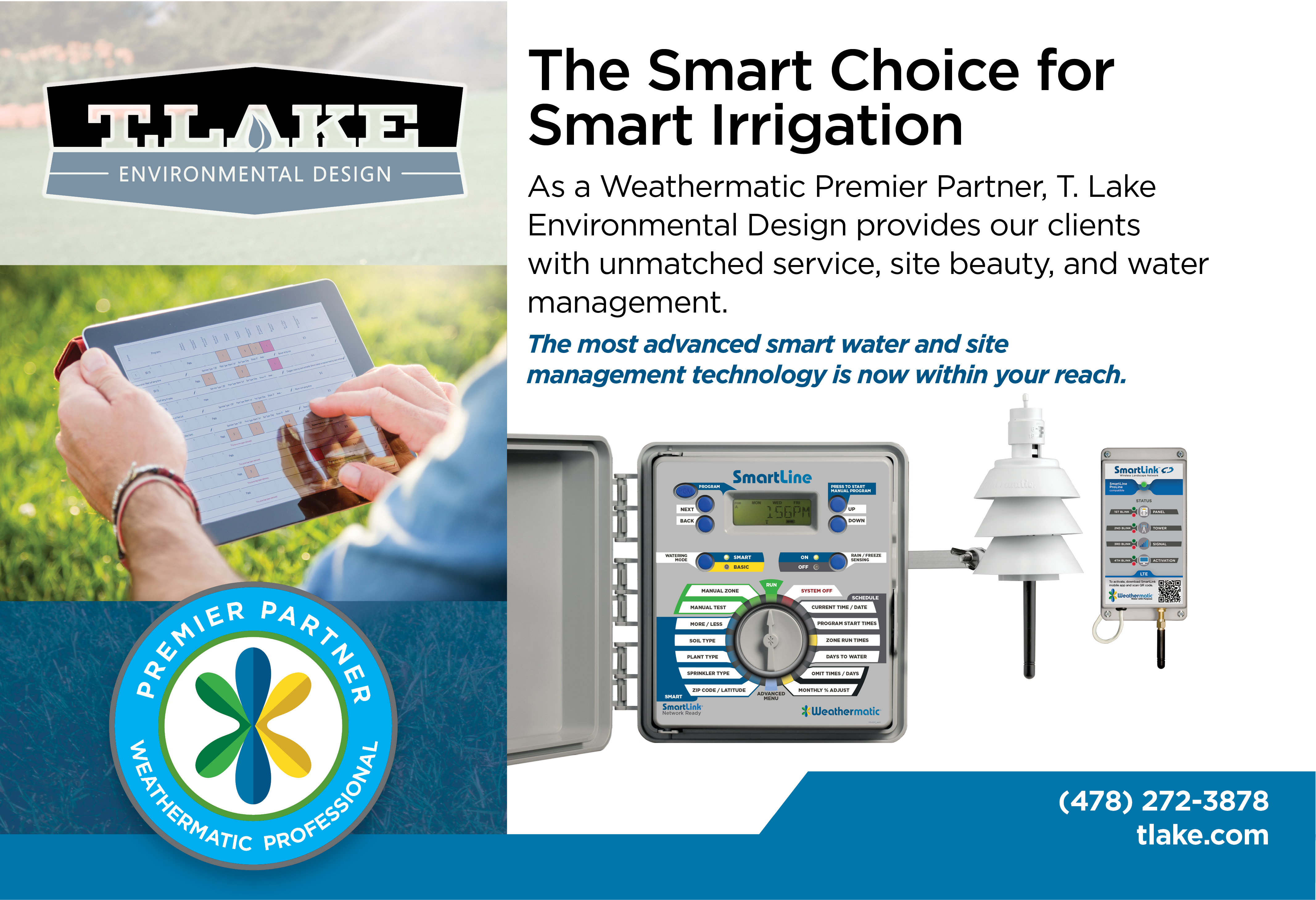 As part of this partnership, T.Lake is offering access to the company's SmartLink Program, which guarantees a reduction of at least 20% to your water bill. Designed with the sole purpose of reducing water waste, the program combines cutting-edge science and market-leading technology and empowers users to remotely monitor and manage every aspect of their irrigation system through one easy-to-use app.
Perhaps the best way to understand SmartLink is to think of it as a smart home device for your outdoor space. The Weathermatic Management System allows you to map, track, and control your irrigation system remotely, no matter where you are in the world. If you have a Nest thermostat, then you can probably visualize the setup.
So how does it work?
T.Lake will visit your property to replace your outdated controller with a new Smart Controller by Weathermatic. This controller will be linked to your account and accessed via the Weathermatic app. That means that wherever you are, you can check the status of your system, measure water flow, and make changes as needed.
The best part? Weathermatic guarantees its users savings of at least 20%, with many slashing their water bills in half.
To learn more about how you could benefit from the Smartlink Program, get in touch via our website or call our office on 478-272-3878 to speak to one of our team members!