We had a new alarm system put in our little cabin the other day. It was cool. The guy came and installed it, and compared with the old style alarm systems it was super easy: he just screwed in a few wireless sensors, plugged it in and we're set to go. It's great—now we can control our alarm system right on our iPhones. It is uber simple compared to the old way.
Anymore, pretty much everything in your house—thermostats, water valves, etc.—can be wired up to give you precise control and awareness of what's going on in your home. It's part of the whole Internet of Things technology scene that's been happening in the past few years.
The landscape industry is wired in to this whole thing, too, and it's a good thing. For instance, smart irrigation systems can save you all kinds of money on water costs, and optimize plant health as well.
But today, let's focus on landscape lighting. And in particular, I'd like to introduce a product line that is doing a fantastic job at taking landscape lighting to a whole new level.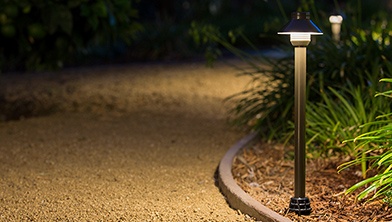 Rock Your Georgia Property With Advanced LED Landscape Lighting Technology
FX Luminaire, which is owned by Hunter Industries (the irrigation people), have done a really good job with their brand and their Luxor series of products. It's all LED, so you have the advantage of energy efficiency and you can change colors at the click of a button. Even better, they use[AM1] RGBW technology, which means that each LED module has multiple color chips integrated into it. This is the same technology they use to shift colors in rock and roll light shows. The result is an unsurpassed range of colors, and really high quality color so you can achieve effects you just can't get in any other way.
With these lights you can literally have rock show lighting right in your backyard. Of course it's possible to go overboard—have it your way, as tacky as you want it—but with the right eye for design they enable you to achieve some really cool things in the landscape.
The Fine Art of Landscape Lighting
Color shifts make a big difference in the appearance of a landscape. That's the whole point of outdoor lighting, the way I see it: to present a different picture than what you normally see in the daytime.
When we install a lighting system, we're not trying to make it look like daytime. Too many people do landscape lighting to simply blast everything with light. Instead, we try to pull out things you wouldn't normally see – and that's the mark of the design pro.
With a system like the FX Luminaire Luxor, we can go well beyond where conventional landscape lighting systems and techniques will take us. And we can put control in the property owner's hand, so you can change colors, hues, saturation, intensity, and make it brighter or dimmer from right in your backyard. You don't even have to sacrifice your spot around the fire pit for an instant.
And to make it even easier we can also link it to an astronomical time clock. That way your system will self-adjust, so you never have to reset the clock. We can program the lights to come on for you at the right time all year long. It handles the change in and out of daylight savings time, as well as adjusting for seasonal day length, with ease. One less thing to worry about.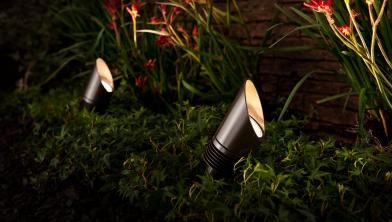 Zoning Your Landscape Lighting to Suit Your Needs
Whether commercial or residential, the ability to zone your lighting opens up new realms of possibility when it comes to landscape illumination. With the Luxor system, you can literally control lighting of every section of your landscape independently and with minute control.
For example, if you want your gazebo area to be brighter but you wanted to subdue the lighting around it, you can do that. Or, you can program different zones to be highlighted at certain times of the day. For instance, say you're a hotel. You might want your entryway lighting to come up and be brighter, but keep the fountain area are dimmer, to direct people to where they're supposed to go in the evening when a lot of guests are checking in, or for an evening event. You can do that easily with the Luxor system. And a couple hours later if you want to spotlight the fountain and make the entry area dimmer, you can do that, too, with just a click or two on your phone.
This whole new system and technology can be applied to underwater lighting as well. It's zoned the same way, so if you have water features or fountains you can easily incorporate them into your lighting effects. Same for other areas of your landscape: we even have flexible, dimmable LED BBQ lights. Now, instead of squinting to see in the dark whether your brats are done or not, we have lights you can put on it without ruining the mood or hurting people's eyes.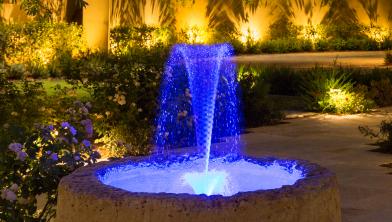 Looking for High Quality Landscape Lighting Options in Georgia or Neighboring States?
We do a lot of things well at T. Lake, but I have to admit I'm kind of partial to landscape lighting. And there's a lot more to doing it well than you might think—including avoiding potential liability issues from poorly designed or installed lighting.
So if you're considering installing lighting in your commercial or residential landscape, do give us a call. We'd be happy to talk to you about how we can help.
Photos courtesy FX Luminaire