Looking for a job is a full time job in itself. And because it's a job with zero upfront benefits and no pay (yet), it's tempting to simply grab job opportunities as they arise and hope they will work out OK. But taking a bit of time to sort out in advance whether a company is a good match for you helps both you and your prospective employer.

When you walk into an interview knowing a company is a good fit, it gives you a boost of confidence that will help you stand out from the crowd. And, finding a work environment that suits your personality and working style will make a big difference in how fulfilled you feel once you actually start working there—as well as advancement and career opportunities down the road.

At T. Lake, we're busy. Really busy. Which is why we're always interested in speaking with potential new hires—but to be quite open and frank, only if there's a good chance we'll be a happy match. So before you reach out to us, here are a few job seeking tips to help you decide if T. Lake is the right company for you.

It's More Than Pay and Benefits
Money is important. But it's not the be all and end all of life. There are many other factors that will determine how satisfying you find your job. Our first two tips will help you narrow down your job search to companies that are likely to be a good match for you.
Job Search Tip #1: Be Honest With Yourself About Your Needs. That factory or office job might be a great job in that it pays well and has benefits, but are you wired to go home happy after spending all day cooped up inside? If you're a person who needs sunlight and expansive spaces, it doesn't matter how much they pay you, you'll find yourself hating your job, or at the very least feeling drained and unfulfilled.
Job Search Tip #2: Case out the Culture. Does the company you're looking at share your values? What are the people like? You're going to be around them a lot – will you fit in or not? Will you be happy and fulfilled in that environment?
Getting to know a company's culture may require you to do a little extra digging beyond a company's home page or their recruitment materials. Here are a few ways to scope it out:
Check out their social media. Not every company is active on social media, but if they are you can often get a feel for what they value and the culture of the company.
Dig deeper into their website. Companies often reveal a lot about their culture in their About section and on their blog. At T. Lake, we spell it all out on our Careers page. You'll also want to check out our blog post, How to Grow Your Career at T. Lake.
If you get the chance, talk to current employees. Former employees can be a good bet, too, but keep in mind that if they themselves weren't a good fit for the company, they may not paint an accurate picture of what it might be like for you to work there.
Here's what some of our employees have to say about their experience working at T. Lake:
"I like working at T. Lake because of the family atmosphere, and the push to better yourself." -Kaylie Lofton, Office Manager
"I enjoy working for T. Lake because there is great variety in the work that changes from project to project. I also like being able to manipulate the environment to suit the client's needs." - Bob Johnson, VP of Design Build
"One of the things that I like best about working here is that Tim's training includes not just lessons we can use on the job, but also lessons on being a better person and bettering ourselves for their future." -Ryan Strickland, Account Manager
"The thing I like most about working at T.Lake is seeing a project move from initial consultation to concept drawings, to detailed plans, then into the actual installation of the project. It is always amazing how an initial drawing on paper can turn into a beautiful landscape! The second thing I like most is the variety of work we do. One day we can be planting a single tree in someone's yard, the next we are installing a large hardscape project around a pool, and the week after that we are helping cap a landfill. Every day is a new challenge and that excites me and keeps me on my toes!" - Robert Arrington, Operations Manager, Construction
Do You Want a Job or a Career?
What's the difference? In a job, you trade hours for dollars. In a career, you develop your capability as a human being and build skills that empower you and others to be the best you can be at something worth doing. Which do you choose? The following tips are aimed at helping you find a job that leads to a fulfilling career.
Job Search Tip #3: Look for evidence that the company invests in its employees. If a company has programs and policies in place to help its employees learn and grow, it is a good bet that you will have opportunities there for advancement and building a satisfying career.
At T.Lake, we actively encourage our employees to stretch themselves and expand their skills both in their careers and personal lives. We offer numerous opportunities for continuing education and training for all our employees. We are also proud to partner with the National Association of Landscape Professionals to offer internships through the Landscape Management Apprentice Program.
Job Search Tip #4: Consider the value you bring to the table. Every relationship is a two-way street. A company that fits you well is one that will benefit from what you have to offer. Even if you haven't yet developed a lot of technical skills, take some time to think about what you can offer the company you're considering working for. A good work ethic? Physical strength and stamina? A positive attitude? The ability to think on your feet? Loyalty? All these things are valued in the work environment. Thinking through how you might leverage them to benefit your potential employer can give you a huge advantage in your next interview and help you become a valued team member going forward.
Is T. Lake a Good Fit for You?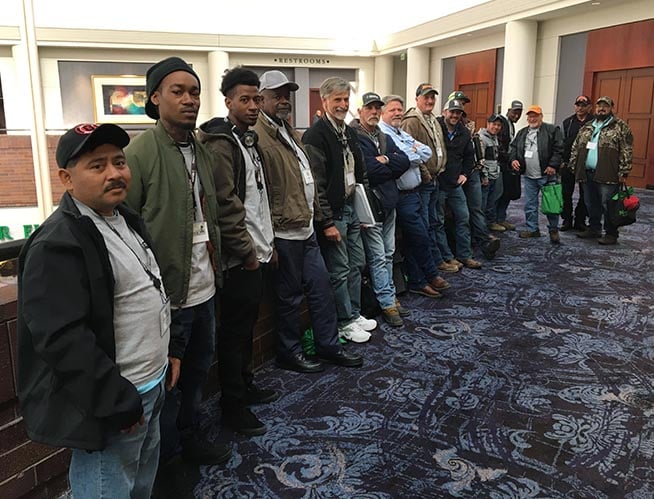 Many T. Lake employees have been with us for years and years. We value and appreciate them tremendously, and these folks agree that our company is a fantastic place to work.
But, T. Lake is not the place for everybody, and that's ok. Now that you've read over our tips above, we encourage you to take a closer look at T. Lake and determine whether you feel we'd be a good fit for you.
If so, great! You can find out more about joining our team, and apply for an interview here. And if not, perhaps it will help you narrow down your search to find a job that does meet your needs. Good luck!