Few seasons can compete with the popularity of Fall. There is something magical about the changing leaves, those crisp autumn mornings, and cozy evenings sat huddled around a roaring fire.
In Macon, Georgia, we are blessed with a climate that enables us to enjoy the outdoors almost all year long, with warm days and cool nights that can continue into November and beyond. Therefore, it is perhaps not surprising that Fall garden projects are one of T.Lake's most popular requests.
From fire pits and outdoor cooking stations to outdoor lighting and seasonal color displays, a custom-designed element can transform the way you interact with your outdoor space, particularly as temperatures begin to fall. Landscape design that is attractive, thoughtful, and well-planned not only makes spending time outdoors during Fall more appealing but also more practical.
But why are we talking about Fall garden design in July?
As with most things in life, good landscape design takes time. Creating an autumn wonderland in your backyard requires months of planning and preparation, and if you're serious about having your garden ready for Fall, then it's essential to begin the process now. If you wait until September then chances are, it will already be too late to make the changes.
With this in mind, let's take a look at some of our most exciting Fall design features, and what you can do to make sure they're ready in time for autumn.
Seasonal Color
Seasonal flowers and foliage are some of the best and simplest ways to elevate your Fall garden. Snapdragons, pansies, chrysanthemums, and asters all produce stunning Fall blooms and can be used to incredible effects to brighten up a seasonal outdoor space. Many people opt to plant seasonal color containers, rather than in-ground, so that they can be swapped out come spring.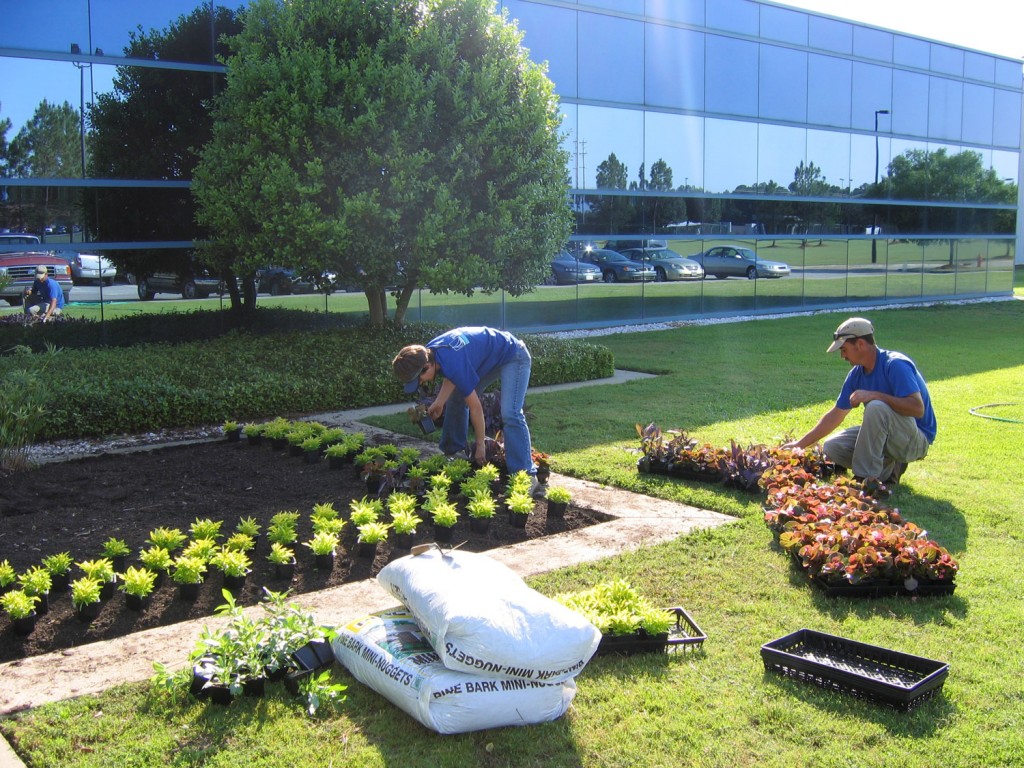 Either way, most Fall blooming flowers should be planted before the temperatures start to drop at the end of summer. This way, your plants will be able to embed their roots while the soil is still warm, helping to establish healthy growth later in the year. For this reason, July and early August are the perfect time to start planning your seasonal color displays.
Premium Outdoor Lighting
With June 21 in the rearview mirror, the nights have already started getting longer. But don't give up on outdoor parties just yet. Landscape lighting provides a simple and attractive solution to those dark Fall evenings, illuminating your patios, walkways, and even water features. Our design team is skilled at designing lighting systems that enhance the aesthetic and function of your garden, helping you to enjoy your outdoor space whatever the time or season.
To ensure high-quality fixtures, we work with top-rated external vendors, and in today's world, it can take a while for lighting components to arrive. Once we have them in hand, we take the time to ensure the placement and installation are perfect. Because of this, we recommend starting the process as early as possible. You should contact us in summer for Fall completion of outdoor lighting projects.
Fire Pits and Al Fresco Kitchens
There is something fundamentally appealing about cooking and eating outdoors. The smell of smoking coals, the steady crackle of a well-built fire - it's a well-worn recipe for the quintessential peaceful, easy feeling. In recent years there have been giant leaps in the world of outdoor kitchen design, which is great news for those looking for a custom fit. From small and rustic fire pits to full-size family grills, there's a fire-power solution for every goal and budget.
If you're hoping to have your new feature in place ahead of Fall, then you should begin planning by mid-summer. Not only will this provide your landscape architect with enough time to become familiar with your space, but it will also allow time for your materials to be ordered and delivered.
Patios and Decks
As the weather gets cooler, most of us naturally gravitate towards hardscaped areas that allow us greater comfort to relax outdoors. Decks and patios are popular additions to Fall gardens and can make your landscape more accessible throughout the colder months.
It takes careful planning to build any hardscape, regardless of its size. Even before any material orders can be placed, the design process can take weeks, particularly on complex or detailed projects. To ensure your hardscape is ready for Fall, start the process early. This will not only give you more time to explore your design options but also create a buffer should delays arise ordering materials. Even if you are looking to upgrade or repair an existing hardscape, you should aim to have the process rolling by the end of July at the latest.
Invest in Quality
The best things in life take time. It might sound strange to begin planning your Fall project in the summer (or even the spring!), but this is by far the most effective way to ensure your deadlines are met. As with anything, your landscape should be an investment in quality.
At T.Lake, we don't believe in cutting corners. Not only do we give every project the time it deserves, but we only ever work with reputable vendors and quality materials. That means that with T.Lake, you never have to worry about quality. What's more, we pay all our employees and contractors well., because we know their expertise is worth it. Surrounding ourselves with quality people helps ensure that we deliver the best to you. You're worth it!
If you're dreaming of a Fall staycation then get in touch today to discuss your goals.