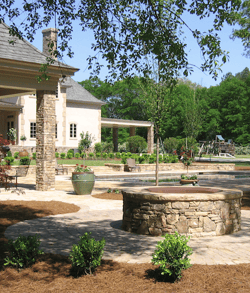 Whether your idea of outdoor fun is s'mores and hot dogs with your kids and the family dog, or an elegantly catered event for a crowd, a nice fire pit will enhance the experience for everyone.
Fire pits are a versatile backyard feature that can come in a variety of sizes and styles to suit your home and lifestyle. There are two types of fire pits, distinguished by the type of fuel they are designed to burn: wood burning and gas burning.
A wood burning fire pit is basically a campfire ring taken to the next level; it is meant for burning standard split firewood logs. Most gas burning fire pits run on liquid propane, but they can also be set up to burn natural gas.
Wood or Gas? 6 Factors To Consider In Your Decision-Making Process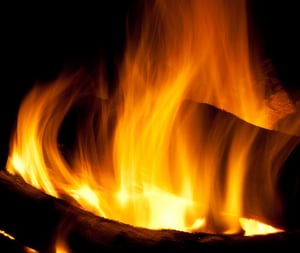 To start, it's important to realize that virtually any fire pit design can be adapted for use with either type of fuel.
In fact, nearly any wood burning fire pit can be easily converted to a gas one by installing an insert, commercially available for about $100-$400, depending on size.
So the only things you'll need to consider when deciding which type of fuel to use are factors directly related to the fuel itself.
Let's compare some of those factors so you can make the best choice for your own outdoor living set-up.
Fuel Availability
Do you live in a remote rural area with plenty of firewood nearby? Or a suburban home with a gas line already in place? Consider, too, that if you are burning propane your property needs to be accessible to the delivery truck.
Installation Time
Wood is typically cheaper than gas, especially if you have your own woodlot. Wood-burning fire pits are also a little cheaper to install, and can be built in 50% to 75% of the time it takes to install a gas-burning unit.
However, it's important to also consider your time as an expense. Even if you don't chop and split your own wood, you'll still have to spend time ordering, stacking, seasoning, carrying and arranging it.
Fuel Storage
A propane-burning fire pit will require a storage tank. Depending how often you use it, you may have one from 15 up to a 100 gallon tank.
No one wants to spend their leisure time staring at the side of a gas tank, so you'll want to be sure you either have an out of the way corner to place it in, or come up with a creative landscaping solution to hide it.
Firewood also requires storage space on your property. Consider where you can stack wood without it detracting from your home's appearance. Don't stack it up against a wood framed house, though. Firewood can harbor termites.
Convenience
Gas is undoubtably far easier to use than wood. Starting a gas fire is simply a matter of flipping a switch and holding a lighter to it. Also, firewood can be messy; if you don't want to deal with sweeping up bits of bark you might be happier with gas.
Safety
With gas, there is the possibility of gas leaks. However this is very rare when a fire pit is professionally installed. With firewood, basic safety measures should always be taken, which include wood cutting with extreme caution, stacking firewood properly in the fire pit and extinguishing your fire when finished, to name a few.
Environmental Considerations
Wood is a renewable resource, unlike gas. However, gas is far more clean burning than wood, so environmentally it's a toss-up. Certainly if you or a family member has asthma or is sensitive to smoke, gas may be a better option for you.
Trouble Deciding? T. Lake Can Help You Make An Educated Decision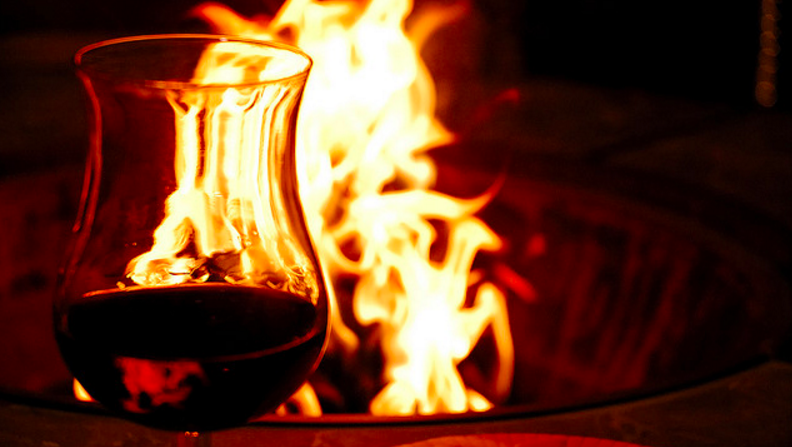 So there you have it: The pros and cons of gas vs. wood-burning fire pits for your family.
Ultimately, though, the biggest factor is simply personal choice. For some folks, a fire just wouldn't be the same without the crackle and smoky aroma of a good old-fashioned wood fire. Others prefer the clean-burning convenience of gas.
Still have questions about installing the right fire pit — or any other residential hardscaping project? We'd be happy to help. Call us at 478-750-7733, or contact us online for personal assistance from one of our design build pros!
Images: Flames, Glass of wine