Since T. Lake's inception in 1990, we've had a lot of employees come and go. Many of them didn't last too long; we have a habit of weeding out the ones that don't have enough grit or have too many vices. But we also attract our share of hardy souls who thrive on hard work, good old fashioned horse sense, and a job well done. These are the people who tend to stick around, and we appreciate them more than we could ever express in words.
That said, a few words of appreciation are always in order. So I thought it would be nice to spotlight a few of these individuals here, to recognize them for their excellence and the value they bring not only to T. Lake and the customers we serve, but to each of us as people and to the greater communities to which we belong.
And the very first person to spring to mind as a deserving recipient of this kind of recognition is our longest tenured employee, John Truman Berryhill II.
Meet John Berryhill, T.Lake's "Right Hand Man"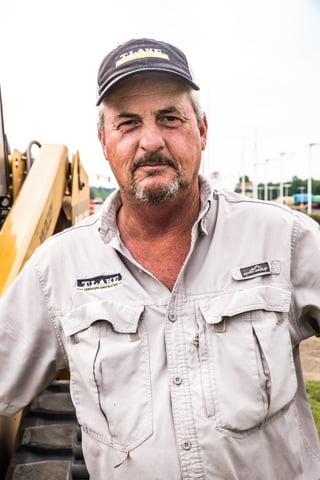 John has been with T. Lake for 22 years, almost since the beginning of our establishment in Georgia. But his roots as a landscaper go way deeper than that. He received his first "paycheck" as a landscape professional at the tender age of eight, after helping a schoolteacher who lived in his neighborhood to plant her flower beds. That job led to more, and John remembers helping many little old ladies keep up with their yard work throughout his school years.
While John was born in California, he has no memory of living there. John's family moved to Dublin, GA when he was barely old enough to walk, and this has been his home ever since.
John came from a happy and supportive family, "but if you wanted something, you'd better get out and work for it, because that's the only way you were going to get it," he laughs. "There was ten of us; we'd fight for everything we could get."
The desire to work came naturally to John, and stood him in good stead when it came time to find employment. After graduating from high school, John worked for several landscape and construction companies before joining the T. Lake team.
Today, he bears the official title of "Construction Superintendent." However, we're considering changing that to "Right Hand Man," because when it comes to being handy and knowing how to get things done there aren't too many people you can put in the same bucket as John; he can do anything from weld to sawmill to planting to hardscape construction, and do it well.
John is also a certified landscape technician and was the first person outside of the Atlanta market we know of who earned that distinction in Georgia. And, he's a gardener extraordinaire, often hitting the garden after a full day's work on the job site and working there until dark. In fact, one of his aspirations is to get into market farming some day.
Capable And Dependable Inside And Out
But it takes more than skills to earn the kind of respect from co-workers and employers that John has earned from us over the years. It takes a well-developed sense of fairness, ethics, and humanity, too—and John has those qualities in spades.
He never complains but always has input, and when John opens his mouth we've learned to listen close. God gifted John with an overdose of common sense and a lot of restraint until you push him too far. If you do, seek cover. He's honest to a fault, always fair, and always firm—you can't push him around. (We like that about him.)
And, when it comes to loyalty no one can beat him. We are honored to have had John as part of the T. Lake family for so many years, and hope he sticks around for many more!