Not all landscaping careers in Georgia involve mowing turf or designing beautiful outdoor environments. Every landscape company needs to stay on top of its finances—and when it comes to crunching numbers and keeping the books straight, Beth Bozeman is the best around. Beth has been with T. Lake since September 2019 as the company Controller. She's the one managing the finances of T. Lake. Her duties range from financial analysis to accounts payable, to analysis of budgeted expenses vs. actual expenses.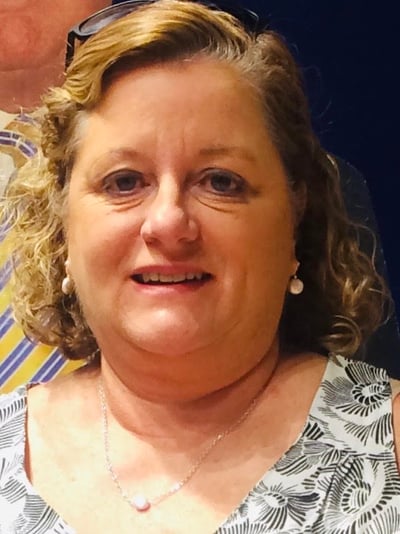 Beth believes there was a little help from above with this hire; it fell in her lap just two days after she was told she was being laid off due to her previous employer downsizing. Beth found out that T. Lake was looking for a controller through some people who go to church with Tim, so she tells people getting hired was a God thing. She has known Tim Lake for a long time, from way back in their school days. Even though Beth had about four job offers at the same time, she just knew this was the right one.
We agree! We didn't want to hire just anybody. We wanted the right person, and Beth fits the bill perfectly. With an MBA in business from Georgia College (now Georgia College and State University) and decades of experience under her belt (28 years with Rockwell Automation), Beth was able to step right in and take the financial helm of the company without a hitch. And it's been smooth sailing for everyone ever since.
"After working for large corporations, I just love that (T. Lake) is a small company," says Beth. "It's nice that decisions are made here two rooms away by one person. That's huge. It's a nice family environment. Tim allows us a lot of flexibility; he is easy to work for. He's very genuine."
Family and Farming
Beth was born and raised in Dublin, GA, and still lives on the family farm—which her family still farms, more as a hobby than for a living. They plant a vegetable garden every year to raise produce, which the entire family shares.
She has been married for almost 41 years to her husband, Eddie, whom we would like to congratulate. He just retired at the end of October from a distinguished career in law enforcement! Not being one to sit still for long, he started back to work in January at the district attorney's office.
Beth says she feels lucky that all three of her kids, Andy, Ben, and Sarabeth, live right here in Dublin. She is especially fond of spending time with her three grandchildren; all boys belonging to her oldest son Andy. The grandkids—five year old Rhett, four year old Caleb, and the baby, 20 month old Luke— love to come to the farm, where they go fishing in the pond and feed the ducks. Rhett has already worn two or three BB guns out; he loves hunting.
Beth and her family like to travel, especially out West. They love the national parks (Yellowstone, Red Woods, etc.). Jackson Hole, Wyoming is one of their favorite destinations; they go there as much as they can. They are also animal lovers, with three dogs, some pet goats, and once even a pet deer. They also feed out beef and pork, but they can't get attached to those animals!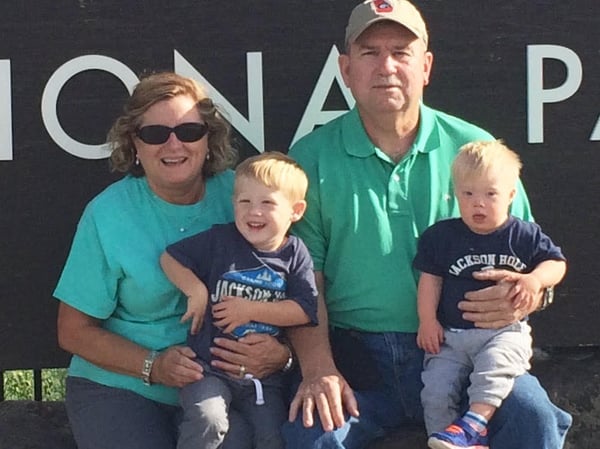 Thank You, Beth!
If you ask Beth what the secret to her success is, she will tell you, "The way I was raised. We were raised not to be quitters. When you committed to something that's what you did, it didn't matter if you were playing sports or school or a job. We were not job hoppers, that was instilled in us. It was expected when you got a job you stayed with it."
She goes on to say, "I picked a career that interested me. I've always liked math and solving problems. I don't like conflict, so I tend to be on the problem-solving end. In finance, you're continuously solving problems especially if something doesn't balance. Finance is something I enjoy. There is a saying, 'Choose a job you love, you will never have to work a day in your life'."
Beth adds that as long as her health is good, she intends to stay here at T. Lake a while because this job is so stress free. "I don't have to put up with a lot of bureaucracy, that big corporate structure, and that's huge. I don't even know how to tell people what a difference it makes!"
Join the T. Lake Family
If you like to work with a team that feels akin to family and want to learn more about working at T. Lake, we'd love to get to know you. Check out our Landscaping Careers page, fill out the form there, and we'll get in touch with you soon!