Luis Arreguin hasn't been with T. Lake for long – just since last August. But in that short amount of time, we've come to appreciate him as a valuable team member and a great guy to have around.

Luis started his career in landscaping back in high school, working at a plant nursery. He earned a degree in horticulture from Abraham Baldwin Agricultural College, but left the industry for eight years selling used car parts. After a while, though, he realized his heart was in landscaping. He says "I would always be working at home on my yard, or just working on somebody else's yard on the side." Eventually, his passion for plants led him back to the landscape industry, where he found his place at T. Lake.

A Hard Working Guy
The transition from office work to working outdoors was a bit rough for Luis, who says "from working in a cubicle to working outdoors, in the heat and the cold, it took a couple weeks to get used to that again." But Luis knows he made the right choice, and is happy to be a part of the T. Lake family.
As an enhancement crew leader, Luis says what he loves most about his job is seeing the transformation of the properties he's worked on. "I get a real good satisfaction when the job's complete. It just feels good when you step back and see that the property has been transformed."
Right now, Luis works out in the field doing physical labor, but he hopes to one day get into management and have a couple crews of his own. "I really don't mind doing the physical work, but hopefully one day."
Given Luis' performance so far, that scenario is very likely. Luis is one of those guys who always seems to have something to contribute. His translation skills have been very helpful in assisting some of our other Hispanic team members during seminars and tests. And, he's making a name for himself as a leader in innovation on the T. Lake team, bringing fresh new ideas to the table no matter what the discussion.
"Everybody likes Luis," comments company President Tim Lake. "He's kind and thoughtful; a real teamwork guy. And he embodies the T. Lake core value of personal growth and learning. Definitely a rising star."
Busy At Home
At home, you can be sure to find Luis working in his yard and garden. He calls it his landscaping playground, and especially enjoys taking roots and clippings and propagating new plants from them.
Luis enjoys spending time with his kids whenever he can, and supports their various activities. His love for plants has inspired his daughter Marcy. A 6th grader, Marcy has joined FFA and has already earned a 2nd place award in a statewide plant and tree identification competition. His 4th grade son is also an honor roll student.
When they're not at home, Luis and his wife Mara, who is an art teacher, like to take the family to visit art museums. Most recently, they visited the Dali museum in Florida. The importance of education is a value Luis has taken from his childhood and hopes to instill in his own children through the experiences and support he gives them.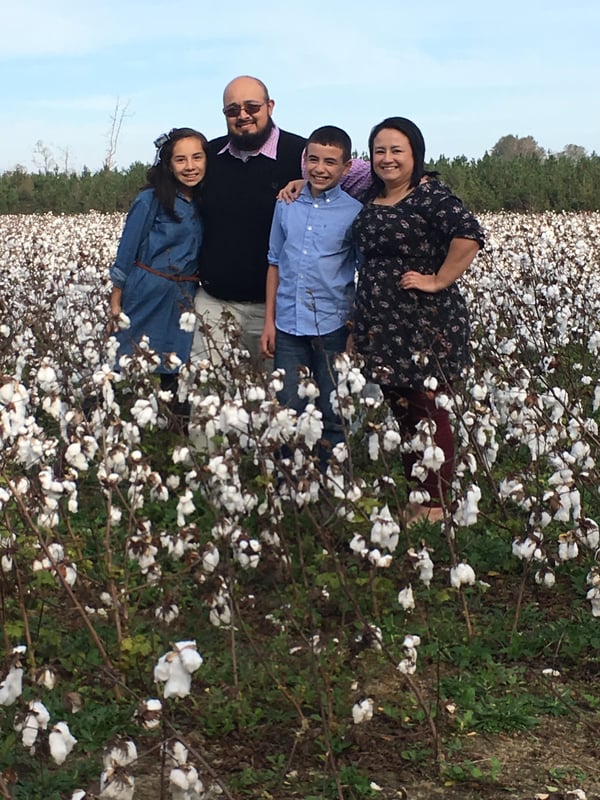 Hard Work Pays Off
When asked about the secret to his success, Luis emphasizes the importance of plain old hard work. He says, "Sometimes I go into a new place or a new job or try something different and I'll be intimidated and a little scared but if I work hard at it eventually I'll make it." He also makes a point of setting goals each year, and making new ones once he's achieved them. With his work ethic, determination, and pleasant personality, we're sure he'll go far!
If you are also a hard worker who shares Luis' passion for plants and would love to make it a career, we'd be interested in hearing from you! Just head on over to our careers page, fill out the form you'll find there, and we'll be in touch with you soon!