Landscapes have a life span. Not only do trees and beds get bedraggled and overgrown, infrastructure wears out and trends change, but your needs change, too, over time. What once was the ideal recreational space for a growing family may not feel so attractive any more when your focus has shifted to entertaining or to new pastimes such as yoga or meditation. Or, maybe you finally have the budget to build that show-stopping outdoor paradise you've always dreamed of.
Whatever the reason, sooner or later it's time to decide what to include in your landscape makeover. To get the creative juices flowing, here are a few of the most popular landscape renovation trends we're seeing in 2019.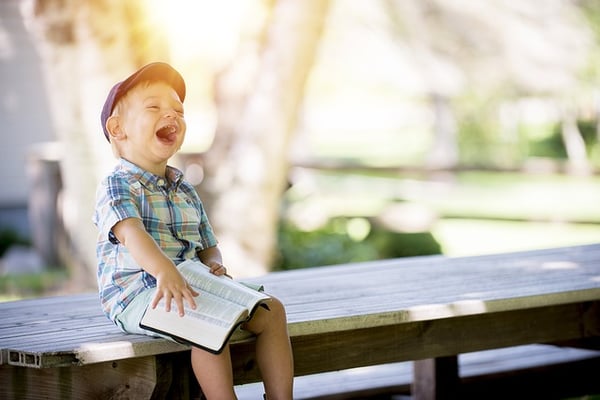 Top 2019 Landscape Makeover Ideas For Georgia Yards
#1 - The Cool Spot
Top of nearly everyone's list in the South is someplace to stay cool. There are a lot of ways to make a Georgia summer livable, even outdoors. Let's start with shade. Nothing beats a tall shade tree for cooling effect, but if you don't have that (or even if you do), there are many types of shade structures that can create that place of respite. Gazebos, pergolas, shade sails, arbors…we can design any of these to complement your home, garden, and lifestyle.
In addition to creating shade, we can also use the cooling elements of water and air to keep the heat at bay. A fountain or other water feature can provide cooling mist as well as a relaxing sound effect. And if your outdoor structure allows it, a high volume, low speed fan installed under the roof provides a significant evaporative cooling effect without creating overly distracting breezes or fan noise.
#2 - The Zone Out Zone
The benefits of spending time outdoors in a natural setting are only just starting to be appreciated by the powers that be. They're starting now to prescribe "nature pills" – 20 minute chunks of time spent with the trees—to stressed out people as a medical protocol. Of course, they're just rediscovering what we Southerners have always known. A reading nook, yoga platform, a place to string a hammock, a peaceful meditation space—whatever your preferred method of outdoor relaxation, we can create a space for it in your landscape.
#3 - The Outdoor Cooking Station
Something about outdoor air just makes food taste better—not to mention that outside cooking elevates the simple act of making a meal into an experience that can range from rollicking down-home fun to the sublime. Outdoor cooking equipment also provides the perfect excuse to entertain. Depending on your style, here are two ways to go: the Dutch oven or cowboy cauldron for a more rustic experience; or the fully equipped Viking grill. Have it your way. We can even create an entire outdoor kitchen with dishwasher and the whole nine yards if that's what you like.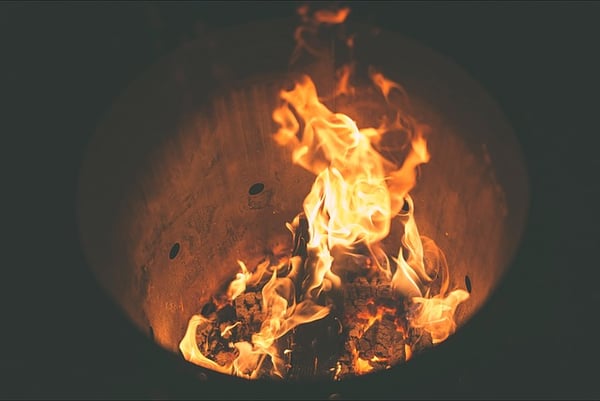 #4 - The Fireside "Chat Room"
Fire features will never go out of style. We see hanging out by the fire as a way not just to enjoy the outdoors, but to enjoy and relate to each other in a way that is becoming a lost art. Whether you're planning an intimate evening for two or a campfire-style gathering of friends, a fire feature will always be a focal point that brings people together in the landscape. From a simple (or elaborate) fire pit or fire table to a full blown fireplace and outdoor living room complete with sofas and end tables, we can create the perfect setting to enjoy the element of fire at its finest.
#5 – Light the Night
On the more nuts and bolts side, there's nothing like well-designed landscape lighting to let you enjoy your landscape to the fullest degree. Good lighting expands both the time available to utilize your landscape, and your visual enjoyment of it: that Van Gogh painting effect we can do with light that lets you appreciate and enjoy your landscape even if you're not out in it, instead of feeling holed up inside at night staring out at blackness.
#6 -Rock, Roll, and Reel
If you're into listening to music, or if you're going to be in front of the TV, it might as well be outside. It wasn't that long ago that you really couldn't get very good quality of sound from outdoor audio equipment—and outdoor visual effects were only possible by bringing in a screen and projector from inside (and hoping it didn't rain.) These days, though, you'll be pleasantly surprised to know that we can deliver tunes out there in a quality way. And if movies or TV are your thing, we can set that up as well with equipment specially designed to last outdoors.
#7 - A Place to Recharge
Speaking of outdoor audio, visual, and lighting, all of these things can be set up to be controlled with ease right from your mobile device, so the only reason you need to get up from your cool spot is to go get yourself another tall glass of iced tea or cola. Unless, of course, your battery is low. Good thing we can take care of that, too. A charging station to give you discreet power access in your landscape is a modern must-have that lets you effortlessly use your devices as you wish without having to go indoors.
Landscape Renovation Options For Any Budget
Life is short. There comes a time in the lifespan of a landscape where it's just time. Time to get rid of that old, rotten deck or the cracked concrete patio or the basketball hoop that no one has used since 2006. Time to shed the faded lawn furniture and the tired old shrubs. Time to finally heed that little voice that's been whispering to you every time you step outside your back door: "we deserve something more."
The nice thing is, any of the above ideas can be adapted to fit your space and budget. Take fire and water features, for example. You might not want a massive fountain or fireplace and its associated cost and use of space, but we can create small, sculptural water or fire feature "vignettes" that are affordable, useful, and aesthetically pleasing.
On the other hand, if what you want is to make an impact, the sky's the limit and we're happy to work with you to make your wildest outdoor living dreams come true. Either way, the first step is to tell us what you have in mind. Just call us at 478-272-3878, or reach out to us here online, and we'll be in touch with you soon!