At T. Lake, we believe that outdoor spaces are more than just a place to relax and unwind. They are an extension of our homes, where we make memories with loved ones, entertain guests, and invest in our property's value. That's why we understand the importance of finding ways to boost our home's ROI and our enjoyment of our living spaces.
One of the easiest ways to enhance your outdoor living experience is investing in an outdoor kitchen. By embracing this valuable addition, you can not only create a seamless extension of your home but also unlock endless possibilities for entertaining, savoring meals, and forging cherished memories with your loved ones.


1) Convenience and accessibility
Obviously, one of the main advantages of an outdoor kitchen is just that - an outdoor kitchen! Especially if it's equipped with all of your favorite things like a sleek grill, marble table top, and mini fridge. But sometimes the most aesthetically pleasing investments also come with their own functional advantages.

If you're the ultimate party host and entertainer, an outdoor kitchen immediately opens up the cooking and dining space into your entertaining space. No more running back and forth into the kitchen to check inside the oven or accidentally burning the main course! Whether you're manning the grill or you're spicing up some sides, an outdoor kitchen gives you the advantage of still being the life of the party and the ultimate party planner.

Plus, more memories are made and fewer people have to take trips inside the house. I mean, who doesn't love a clean floor?!
2) Increases home value
Outdoor kitchens have experienced a significant surge in popularity in recent years, driven in part by the changes in home and living spaces influenced by the COVID-19 pandemic. As people seek to spend more time outdoors, the demand for outdoor kitchen spaces has grown substantially.

This trend has had a cascading effect on the preferences of modern homeowners, who now prioritize properties that offer outdoor kitchens and other outdoor amenities. By investing in your property and incorporating an outdoor kitchen, you not only enhance your living space but also increases the value of your home. When the time comes to sell, you can expect a higher home value due to this sought-after feature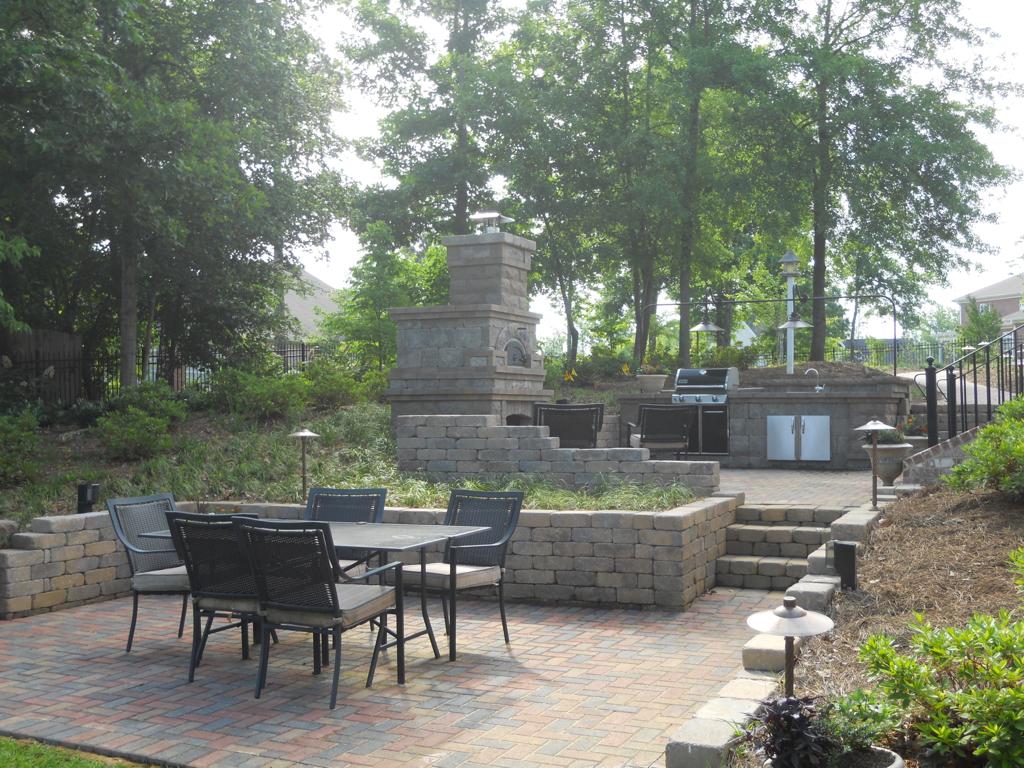 3) Boosts outdoor activities
Let's be real, the party always seems to end up in the kitchen! But who wants to be cooped up inside when the sun is shining and the air is fresh? That's why investing in an outdoor kitchen is a game-changer.

Not only does it keep the crowd outside where the party is meant to be, but it also creates more opportunities for outdoor fun and games. Plus, you can keep an eye on the kiddos as they work off all that sugar with a friendly game of soccer or catch.
4) Lowers energy bills
Hosting a party is hard enough without feeling like you're stuck in a sauna. We all know how hot and stuffy indoor kitchens can get when you're cooking up a storm. But did you know that your oven can put extra strain on your air conditioner? When the heat builds up in your kitchen while cooking, it can cause hot air to circulate and prompt your A/C to kick into gear.

That's why cooking outside in an outdoor kitchen is a game-changer. Not only does it give you a break from the heat, but it also takes the pressure off your AC and your bills!


5) Cuts costs on pricey meals
We've all caved and hit up a restaurant when we're in a pinch. But how many times have you regretted it halfway through your meal? The cramped seating, loud music, and subpar food can quickly kill the vibe. And let's not even get started on delivery - who knows how long it's been sitting in that plastic container before it gets to your door?
With an outdoor kitchen, you can whip up delicious meals in the comfort of your own beautiful space - no screaming kids or cold food in sight. Outdoor kitchens can help you save money so you can cook delicious meals for a fraction of the cost!
Partner with a Georgia-Based Outdoor Kitchen Designer and Builder
At T. Lake, we believe that your home is more than just a place to live - it's an investment in your happiness and well-being. That's why we're dedicated to helping you create the ultimate backyard entertainment space, complete with a stunning outdoor kitchen that you and your loved ones will enjoy for years to come. Our team of experienced designers and builders will work closely with you to ensure that every aspect of your outdoor space is tailored to your unique needs and preferences

So if you're ready to take your outdoor living game to the next level, partner with T. Lake's outdoor kitchen experts to help you make the ultimate investment in your home and your happiness.